Kim Kardashian and her makeup artist Mario Dedivanovic are officially teaming up on a collection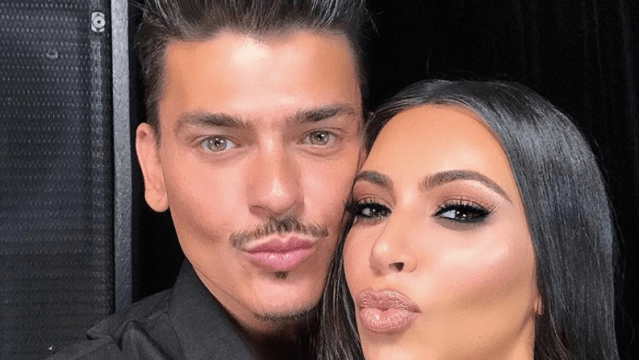 It's pretty safe to say that Kim Kardashian West and her makeup artist Mario Dedivanovic are responsible for some of the most influential beauty trends of the past few years. Besides the obvious contribution of bringing contouring to the mainstream, they've cultivated a strong aesthetic that millions of beauty-lovers the world over adore, and — here's where it gets exciting — now they're officially teaming up on a collection.
They've worked together on all of Kim's personal looks as well as her professional beauty endeavors. If you see a KKW Beauty look, you better believe it's Mario's doing.
They have not yet officially collaborated on specific products, so this is incredibly exciting news. In an interview with Coveteur, Mario let it slip that we can expect a full collection from him and Kim.
This has us wondering if it will be released as part of the KKW Beauty umbrella or if this is a brand new endeavor of its own. If there's anyone with the experience to launch their own line, it's Mario, but we have a hunch it'll be KKW Beauty-related.
Mario and Kim have been working together for a decade, and this collaboration will be a celebration of the years of work they have made together.
The Kim Kardashian West x Mario Dedivanovic collaboration will be released in 2018.
Mario told Coveteur:
"I have a collab coming up with Kim in 2018, so [we're] working on it now. I did a little tease post of it. I can't say what the products are, but it's going to be a really fun collection that comes out 2018. Next year, 2018, is going to be 10 years, a decade, of working together [with Kim]. We've kind of had a pretty heavy influence in beauty in the past 10 years, so the collection is going to reflect that.
We are dying to know what it could possibly contain.
Since Mario said he gave a sneak peek on his Instagram, we're obviously scouring it for clues.
Hmm, remember this?
Hopefully we can expect some gorgeous skin products, as Mario is famous for his flawless faces. What do you think we'll be seeing?