Kim Kardashian looked flawless in minimal makeup in Paris, just hours before being held at gunpoint
Just hours before her night took a terrible turn, Kim Kardashian chose to do something uncustomary for her, or anyone else in the room: She attended the Balenciaga show at Paris Fashion Week makeup-free. Her face is so dewy, golden and flawless and her eyelashes so lush and enviable that we're having trouble believing she isn't wearing some kind of tone perfecter and lash extender. I mean, come on! She has zero blemishes, flaws, wrinkles, bags, shadows. Nothing. Elle est sans défaut. (That means flawless in French.)
Here's a straight-on shot Kim shared on Instagram.
And here's the same shot from another camera: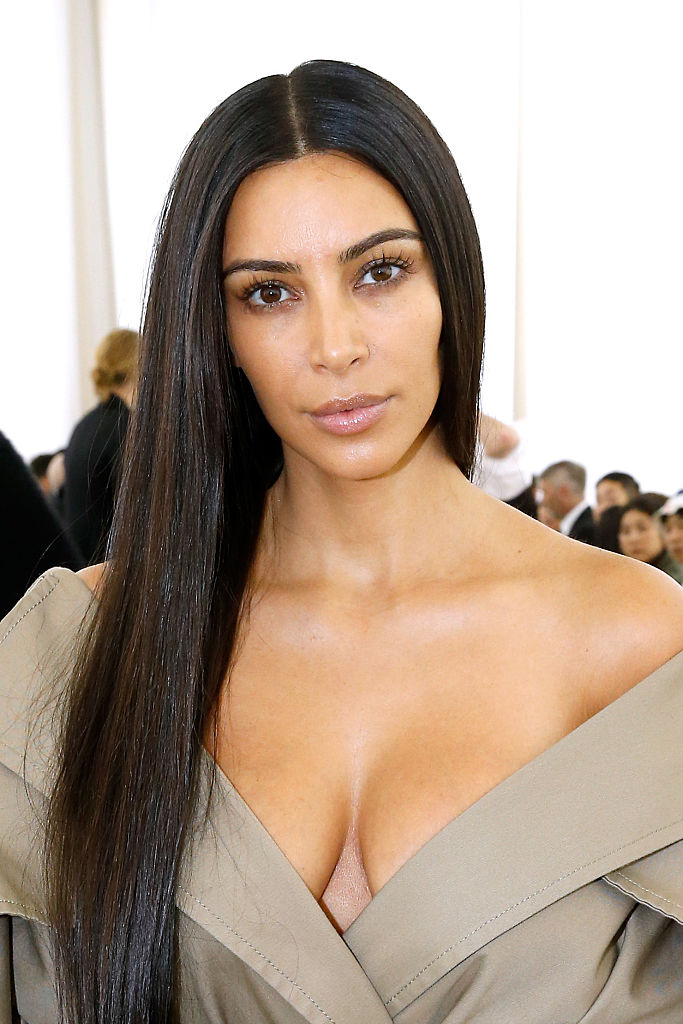 I showed my dad, and of her outfit he said, "she's trying to go incognito."
In an off-the-shoulder trench coat and some bafflingly cool pant-boots (or boot-pants?), she's like a cross between Pink Panther and a Bond girl.
We were pouring over her social media posts of her look last night, and were shocked to learn this morning of the horror she survived last night. A pair of robbers dressed as policemen forced their way into her private apartment in a luxury mansion in Paris, tied Kim up in the bathroom while holding her at gunpoint, and then stole millions in jewelry and other items. Thank God her children weren't present. Up to five men had stormed the concierge, holding him at gunpoint and forcing him to open the apartment.
A spokeswoman for the star said she was "badly shaken" but thankfully "physically unharmed." Nobody should have to go through something like that. What a nightmare.