Kim Kardashian's living will states she must have her hair, makeup, and nails done even if she's incapacitated
You know, we can't say we're surprised. The always camera-ready Kim Kardashian said her living will includes hair and makeup treatments, because even if you're incapable of communication, you still want to look good.
Kardashian was featured in a video with Elle, which entailed some incredibly candid insights into her life. She said her 2-year-old son, Saint, is a "genius" who's able to spell the word gargantuan. She also stood up for her mom, Kris Jenner, after a publication had the gall to call her "chubby" in a throwback photo.
But perhaps the best part about Elle's feature was when we learned that yes, Kim Kardashian's living will includes the stipulation that she'll continue to have her hair, makeup, and nails done even if she's in a devastating medical state where she can't communicate.
It kind of makes sense — if you're constantly in the public eye, you'd likely want to look on point, no matter what, right?
https://www.youtube.com/watch?v=iXfHlch1Lso?feature=oembed
"Absolutely," she said when asked about the rumor. "I made a section that if I am so out of it that I can't even communicate and I'm, like, sh**ting on myself, I definitely need my hair, my nails, and my makeup done. I want to look as good as possible."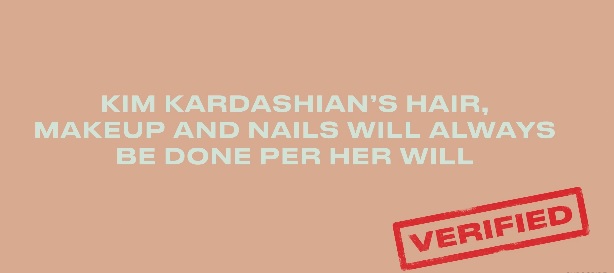 The Kardashians and Jenners have worked with countless stylists and makeup artists over the years, so we're curious as to whether or not Kim has also specified who, in particular, she'd want to work on her if she was ever in such a state. Morbidly fascinating.