Kim Kardashian finally changed the name of her shapewear line after "Kimono" backlash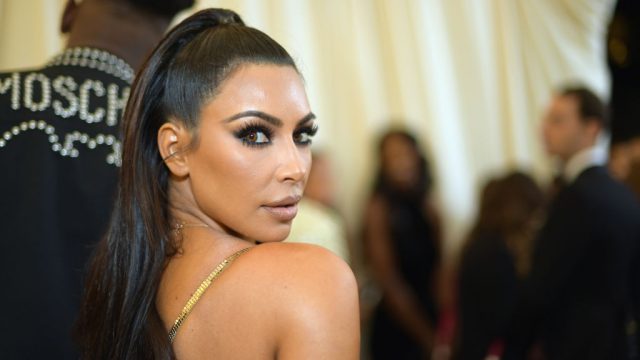 Update, August 27th, 9:45 a.m. EDT: After nearly two months of radio silence on her shapewear line, Kim Kardashian West says the brand formerly known as "Kimono" has a new name. Kardashian West announced that she decided to nix "Kimono" on social media July 1st—after previously stating she intended to keep that name despite the backlash. But on August 26th, she shared a photo of the new line with its new name, SKIMS Shapewear.
"I love the idea that the pieces will be the closest thing to someone's skin, skimming with amazingly soft and supportive fabrics which accentuate the best parts of our bodies," she wrote in the comment about the new name.
If you're ready to forgive and forget now that the brand has a new name, you can shop SKIMS Solutionwear on September 10th.
Update, July 1st, 10:30 a.m. EDT: Kardashian West announced on her own social media that the "Kimono" brand name would be changed, amid backlash. This story has been updated with that new information.
Update, June 28th, 12:45 p.m. EDT: Kim Kardashian West responded to the backlash over "Kimono," her shapewear line. This story has been updated to reflect her statement.
Update, June 26th, 1:50 p.m. EDT: Kim Kardashian West officially announced the "Kimono" collection on her Instagram on June 25th. This post has been updated to reflect new information and responses.
While everyone was gearing up for the 2018 Met Gala, TMZ casually revealed that Kim Kardashian West had filed papers in court to trademark the name of a new lingerie line. More than a year later, on June 25th, Kardashian West herself announced the shapewear collection, and Twitter is not happy about it.
The reality star is again being called out for cultural appropriation. Users are saying the name—Kimono Solutionwear—is inappropriate because it coopts a prominent feature of traditional and modern Japanese culture…without even acknowledging it. According to TMZ, the trademark would cover "bustiers, nightgowns, breast shapers, pasties…leotards, and socks, among other things" with Kardashian's name on them. Kardashian West explained that the collection is a result of her own struggles finding appropriate shapewear for her skin tone and outfit.
"I would always cut up my shapewear to make my own styles, and there have also been so many times I couldn't find a shapeware [sic] color that blended with my skin tone so we needed a solution for all of this," she wrote on Instagram. "I developed this style for all of those times I wanted to wear a dress or skirt with a slit and still needed the support."
True kimono, though, are a style of Japanese robe that feature wide sleeves and bright patterns. Both men and women wear them, and different styles are worn for dinner occasions, including formal weddings.
The question is, with a response like this, will anyone buy Kim Kardashian's shapewear?
https://twitter.com/udfredirect/status/993559283995422720
That remains to be seen, but in the meantime, Kardashian might want to reconsider the name. May we suggest Kimtimates? Kimgerie? Literally anything other than Kimono? Fans and critics alike have been speaking out against the name since the first whispers of the collection came out in May of last year.
On June 27th, Kardashian West responded to the backlash over her collection's name in a statement to The New York Times. You can read the full statement below:
"I understand and have deep respect for the significance of the kimono in Japanese culture and have no plans to design or release any garments that would in any way resemble or dishonor the traditional garment. I made the decision to name my company Kimono, not to disassociate the word from its Japanese roots but as a nod to the beauty and detail that goes into a garment. Filing a trademark is a source identifier that will allow me to use the word for my shapewear and intimates line but does not preclude or restrict anyone, in this instance, from making kimonos or using the word kimono in reference to the traditional garment. My solutionwear brand is built with inclusivity and diversity at its core and I'm incredibly proud of what's to come.
It seemed, at the time, that Kardashian West had no plans to change the name before her shapewear collection was released—triggering backlash to her response to the backlash. However, on July 1st, the entrepreneur officially announced that she would be removing the name "Kimono" from her collection. She made the announcement on her personal Instagram.
"I am always listening, learning and growing—I so appreciate the passion and varied perspectives that people bring to me," Kardashian West wrote.
"When I announced the name of my shapewear line, I did so with the best intentions in mind. My brands and products are built with inclusivity and diversity at their core and after careful thought and consideration, I will be launching my Solutionwear brand under a new name," she continued.
It may have taken more than a year, but we appreciate Kardashian West listening to concerns and changing the name "Kimono." Officially, it seems she still has a trademark on the term, but it's unclear what the new name will be when her shapewear collection is released.
Originally published on May 7th, 2018.