Alert: Kim Kardashian's highly-anticipated Kylie Cosmetics collab launches today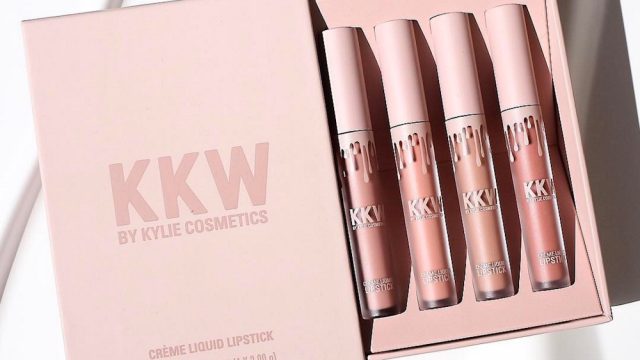 How's that wallet looking? Because thanks to today's release of the highly-anticipated Kylie Cosmetics and Kim Kardashian West collab, it might be a whole lot lighter by the time this evening rolls around! The KKW x KYLIE collection is dropping at 3 p.m. PST, and we have a feeling that these lipsticks are going to fly off the shelves. You better have those typing fingers ready!
Kim and Kylie's aesthetics seem to align the most out of all the sisters, which is why their collaboration has produced such lovely new liquid lipsticks that are just up Kim's makeup alley. Kylie is a bit bolder in terms of her lip color choices these days, while Kim has gravitated towards more neutral shades for a couple years now, and we love that the focus of this collection is a range of nudes.
https://www.instagram.com/p/BTSIGZNlioo
There are four rich, luscious shades to choose from, and each one looks positively divine. You'll absolutely be able to get that perfect nude for your skin tone and personal style! The shades are called Kimberly, Kimmie, Kim, and Kiki.
https://www.instagram.com/p/BTR36RzFDE8
The liquid lipsticks feature a brand new creme formula that Kim came up with, for a much lighter, creamier look and feel than a traditional matte liquid lipstick.
https://www.instagram.com/p/BTN6fRwFTFD
The four shades are absolutely pitch perfect and look dreamy!
https://www.instagram.com/p/BTSHkZNFoCC
Kim explains why she wanted to do all nude shades and how her makeup affects her moods and personality!
https://www.instagram.com/p/BTQLiosFFNw
Kim is super close to Kylie, so they were excited to work together and spend time coming up with the perfect collection of nudes that everyone will love.
https://www.instagram.com/p/BTIUWlDlO9d
Head on over to Kylie Cosmetics at 3 p.m., PST sharp if you want to get your hands on these gorgeous lipsticks. On second thought, perhaps you should meander over a little before then so you're good and ready to go the second they're released!