KKW Beauty's next makeup launch will make you shimmer like Christmas wrapping paper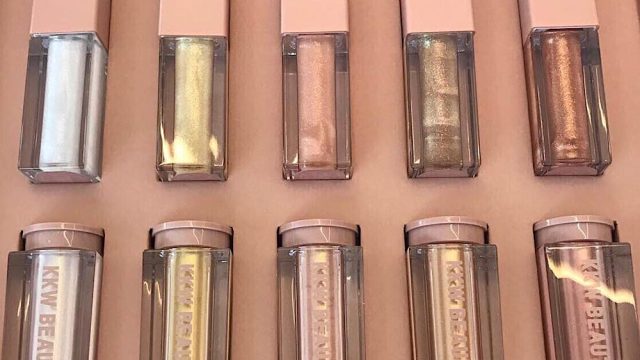 Kim Kardashian's fans are always on the lookout for the next KKW Beauty launch, and it would appear that there are some seriously glittery eyeshadows on the beauty horizon.
While we don't yet know exactly what these new beauties are called, it's pretty apparent from these sneak peeks from Trendmood that there are metallic liquid eyeshadows and corresponding loose powder pigments headed our way.
As KKW Beauty's product lineup grows, it's been fascinating to see how the brand has kept its new makeup releases fresh and unique. Metallic and glitter eyeshadows have been all the rage for quite some time now, but getting two different formulas for such stunning glowing shades is truly a treat.
We have a feeling that the loose powders could also be used as a highlighter, as all the shades have a beautiful glimmer that still feels incredibly wearable. Fingers crossed that these come out in time for the holidays because our New Year's Eve makeup look would definitely benefit from these newbies.
Kim's been dropping hints the past few days as to what these could possibly be, and while many guessed highlighters or glosses, we couldn't have imagined it would be both all at once and that they're specially formulated to be worn on your eyelids. Getting glam just got easier.
The KKW Beauty metallic liquid eyeshadows and loose powder pigments will be available in five shades.
Aren't they gorgeous?
https://www.instagram.com/p/Bb2M7hpAo3r
This set looks absolutely stunning and we are dying to know if they'll be sold as part of a kit, as duos, or if you'll be able to buy them individually depending on what shades and formulas we prefer.
You'll be able to take your pick from Copper, Bronze, Rose Gold, Gold, or Silver. Do you have your sights set on specific shades yet?
Kim gave us a sneak peek at KKW Beauty's latest eye color on Halloween and we didn't even know it.
https://www.instagram.com/p/BbHvqnxgT4C
You can see how smooth and vibrant that color is.
Keep your eyes peeled for more info on these lovely new eyeshadows.