KKW Beauty's concealer kits lack a diverse shade range, and people are fuming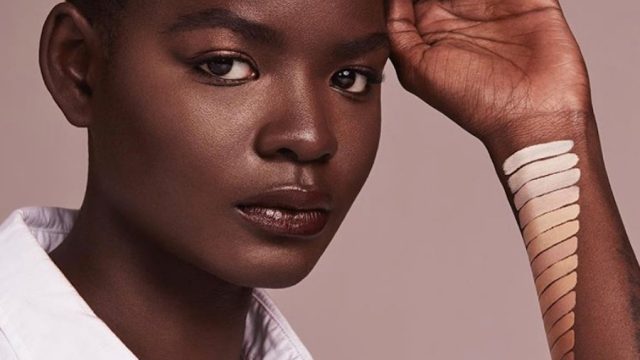 The forthcoming launch of Kim Kardashian's KKW Beauty concealer leaves something to be desired, and makeup fans are speaking out about the line's lack of diversity. The latest launch from KKW Beauty is a collection of 16 concealer shades, but the range doesn't exactly cover everyone's needs. Swatches of the product have hit the internet, and it looks like the majority of the concealers are made to match lighter skin tones.
Kim recently told Allure that the concealer was tested on a wide range of people.
"Once we get the formula right, then we go to shades. From there, I see everything that's out there and then we start testing it on a bunch of different people, which includes models and everyday people. We try them on so many different skin tones, take pictures, and see what people are liking, and do so many focus groups."
Beauty fans aren't convinced, and the discussion is heated on social media, especially on KKW Beauty's Instagram posts. Many people are expressing sentiments along the lines of, "concealer isn't supposed to match your skin exactly." Commenter @detroit_interiordecor responded, "Concealer is supposed to blend with your foundation. NONE of KKW's concealers are dark enough for me. However, out of the 4 CONCEALERS THAT FENTY HAS, 2 of them blend effortlessly with my chocolate skin tone."
A peek at the packaging in the trademark KKW color scheme:
https://www.instagram.com/p/Bgb4fJMA-y5
In a time when Fenty Beauty is releasing products that work for everyone and centered on the beauty needs of people of color specifically, it's especially egregious when brands come out with such a limited line of shades.
Refinery29 reported that Mouna Fadiga, one of the models from the campaign, had defended the brand on Instagram. She said in a comment, "I can tell you that they did not chose [sic] me only to pretend; I had the makeup on and it fits perfectly my skin color. I am not wearing any makeup usually so I know when I have it on if it's good or not and here it was the case, I even keep [sic] it on me and went have diner [sic] a friend."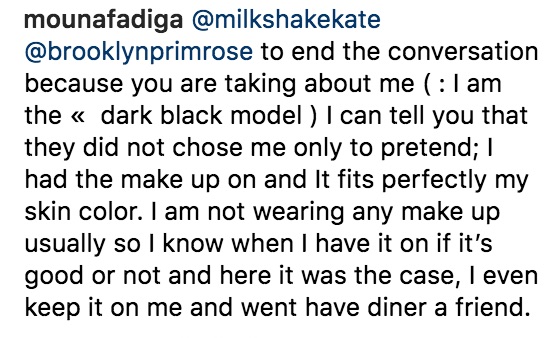 Mouna Fadiga wearing swatches from the collection.
https://www.instagram.com/p/BgY9qWgAYvk
The model who defended the brand is shown wearing all sixteen shades.
The five deepest shades in the collection.
https://www.instagram.com/p/BggtBviAMcw
The other 11 shades are considerably lighter.
The campaign featured models of different ages, skin tones, and sizes.
https://www.instagram.com/p/BgWxqpbgn8H
But the selection of product colors doesn't exactly cover everyone.
Kim told Allure that the products will be available as part of the KKW Beauty Concealer Kit, which will be available March 23rd on KKWBeauty.com. We're curious to see if the shade range will expand at any point. We'll be sure to keep you posted.