Kim Kardashian finally posted about Khloe's baby, and we only have more questions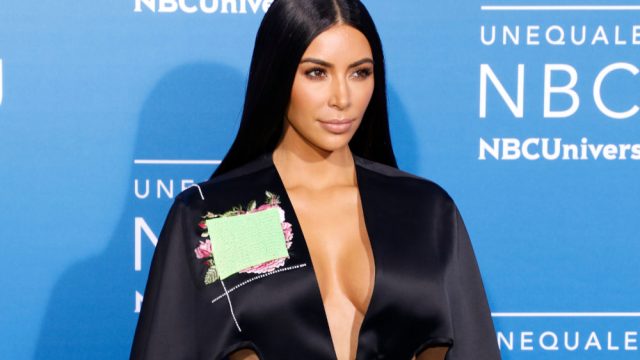 Hold on to your hats, Kardashian fans, because Kim Kardashian has (finally!) posted about Khloe giving birth. As you more than likely know, Khloé Kardashian gave birth yesterday, April 12th, at around 4:00 a.m. local time in a Cleveland area hospital. Sources say that Kris, Kim, Kourtney, Khloé's BFF, and Tristan Thompson were all in attendance.
Until now, only mom Kris had publicly acknowledged the birth. But Kim just officially posted about her sister's new bundle of joy. This comes on the heels of a slight "situation" in which Kim received backlash for posting a ton of fun, carefree bikini shots of herself from her recent vacation to Turks and Caicos with Kourtney…while their extremely pregnant younger sister was in the midst of a potential life crisis. Many fans viewed the posts as insensitive, and wondered why Kim wasn't doing anything to publicly support her little sis.
However, Kim has officially posted the kindest, most supportive (literally) message we could imagine.
She then followed it up with.
And as stoked as we are to see this beautiful and supportive message on Friday the 13th, the tweet also leaves us, well, wanting more. Photos? A name? If anything, we're now only thirstier for details. However, we're sure Khloé will share all the deets when she's good and ready, so until then we'll respect her right to privacy and attempt to be as patient as we can.