Kim Kardashian and Kanye West's whole family kept Halloween going with two more group costumes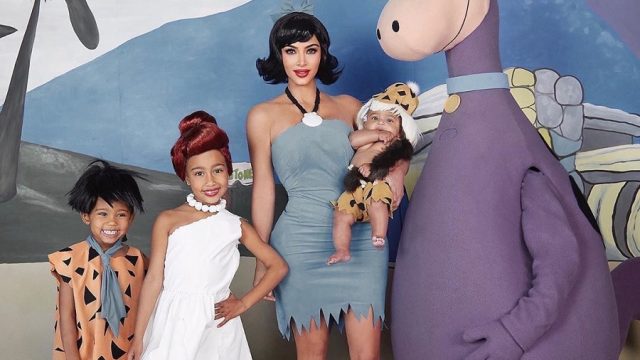 As if it weren't already clear, Halloween is an event for the Kardashian family. After donning her Elle Woods costume on October 31st, Kim Kardashian West pulled her family together to pull off three—yes, three—group Halloween costumes, all of which were debuted during the following weekend. We thought we loved Halloween, but we just can't compete with the Kardashian-West clan.
The last group costume Kim shared on Instagram was Kanye and the kids dressed as the characters from the 2016 animated movie Sing. Saint played Johnny, Psalm played Johnny's brother, Chicago went as Ash, and Kanye as Johnny's dad (in a giant gorilla suit).
"Kanye went trick or treating like this and could hardly fit in the car," Kim captioned her November 3rd post. We would have liked to see Kanye in action. There's always next year, we suppose.
Neither Kim nor North took part in the Sing costume. But don't worry. They were present for the other two family costumes earlier in the weekend.
https://www.instagram.com/p/B4aH3wYAv_s
Before the Sing costume, Kanye, Kim, and the kids dressed as "West Worms."
Again, Kanye looked mildly terrifying in his faceless costume. And yeah, those tentacles coming out of his "mouth" (??) moved. We're not sure how the kids weren't crying.
https://www.instagram.com/p/B4X_exogiES
https://www.instagram.com/p/B4YVtqMAWWN
It turns out, the kids actually did cry during the family's first Halloween photo session. Well, at least Chicago was crying. She couldn't quite handle the fact that her father was in that inflatable Dino suit. And TBH, we don't blame her.
"We tried to explain and show her that it was just daddy but she didn't get the concept yet!" Kim wrote in her November 2nd Instagram post. "So shout out to the photographer for editing her in & making our family Flintstones dreams come true!"
https://www.instagram.com/p/B4U7KNqALJK
Thankfully, Chicago recovered in time to get a couple of cute shots with her mom and sister.
https://www.instagram.com/p/B4UzRpTAzSc
https://www.instagram.com/p/B4UzoaCA4gI
How are we supposed to compete with Halloween enthusiasts like the Kardashian-Wests? We better start planning our three+ group costumes now if we want to run with big dogs next year.