Kim Kardashian Spoke Out About Kanye West's Bipolar Disorder for the First Time
"Anyone who has this, or a loved one in their life who does, knows how incredibly complicated and painful it is to understand."
Kim Kardashian West just made her first public statement about Kanye West's mental health. Since announcing his presidential bid on the 4th of July, West's behavior has sparked speculation that the rapper, who was diagnosed with bipolar disorder in 2018, is experiencing a manic episode. Mania is a serious issue for those diagnosed with bipolar disorder, and, now, Kardashian is asking the media and public to respect her family's privacy and to not make light of mental illness.
On July 22nd, Kardashian posted three slides to her Instagram Stories, describing how complicated bipolar disorder is.
Anyone who has this or a loved one in their life who does, knows how incredibly complicated and painful it is to understand, she wrote.
Kardashian continued by explaining that she has not spoken out on West's mental illness before out of respect of his privacy and their children. But with the current media speculation and stigma surrounding bipolar disorder, the star says she felt she needed to discuss it now.
"Those that understand mental illness or even compulsive behavior know that the family is powerless unless the member is a minor," Kardashian continued. "People who are unaware or far removed from this experience can be judgmental and not understand that the individual themselves have to engage in the process of getting help no matter how hard family and friends might try."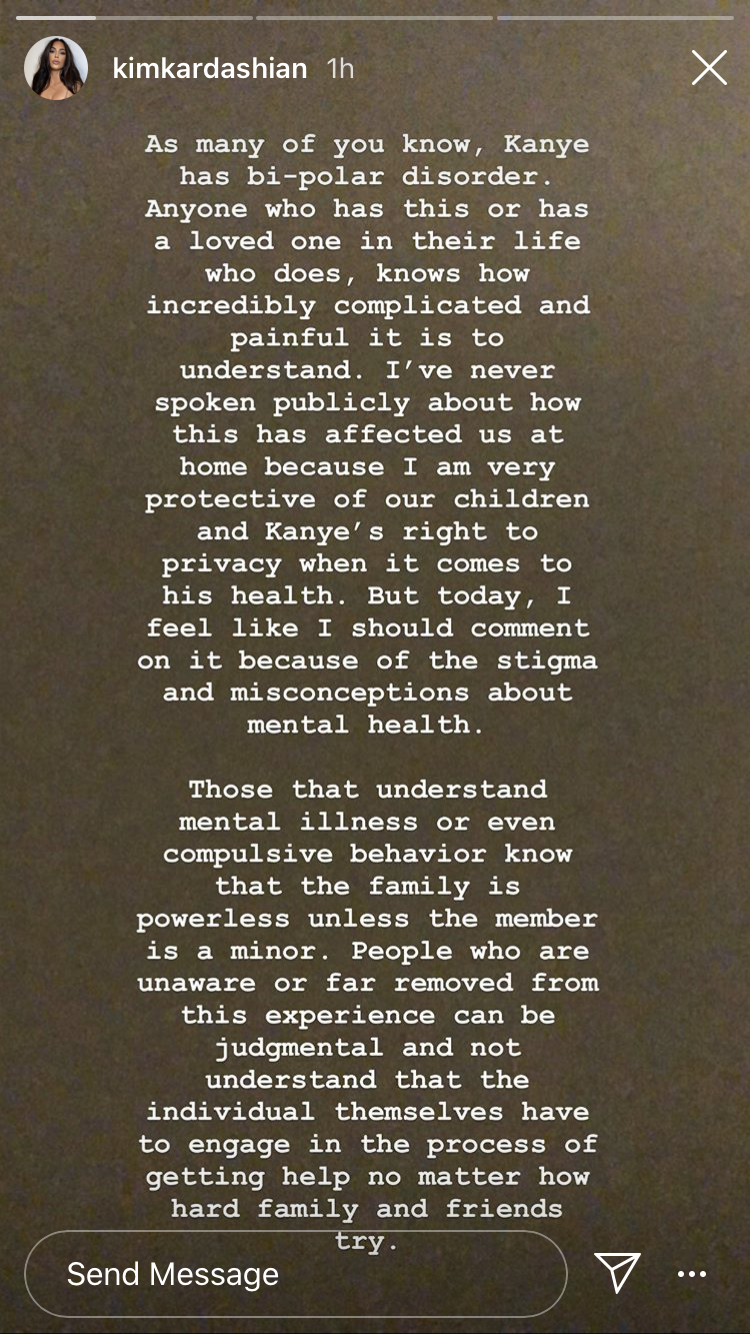 Kardashian then acknowledged that criticism comes along with being a public figure, but noted that people who are close with Kanye "know his heart and understand his words sometimes do not align with his intentions." Kardashian then discussed her husband's "big dreams," seemingly referencing his presidential campaign.
"Living with bipolar disorder does not diminish or invalidate his dreams and his creative ideas, no matter how unattainable they may feel to some," Kardashian wrote. "That is part of his genius and as we have all witnessed, many of his big dreams have come true."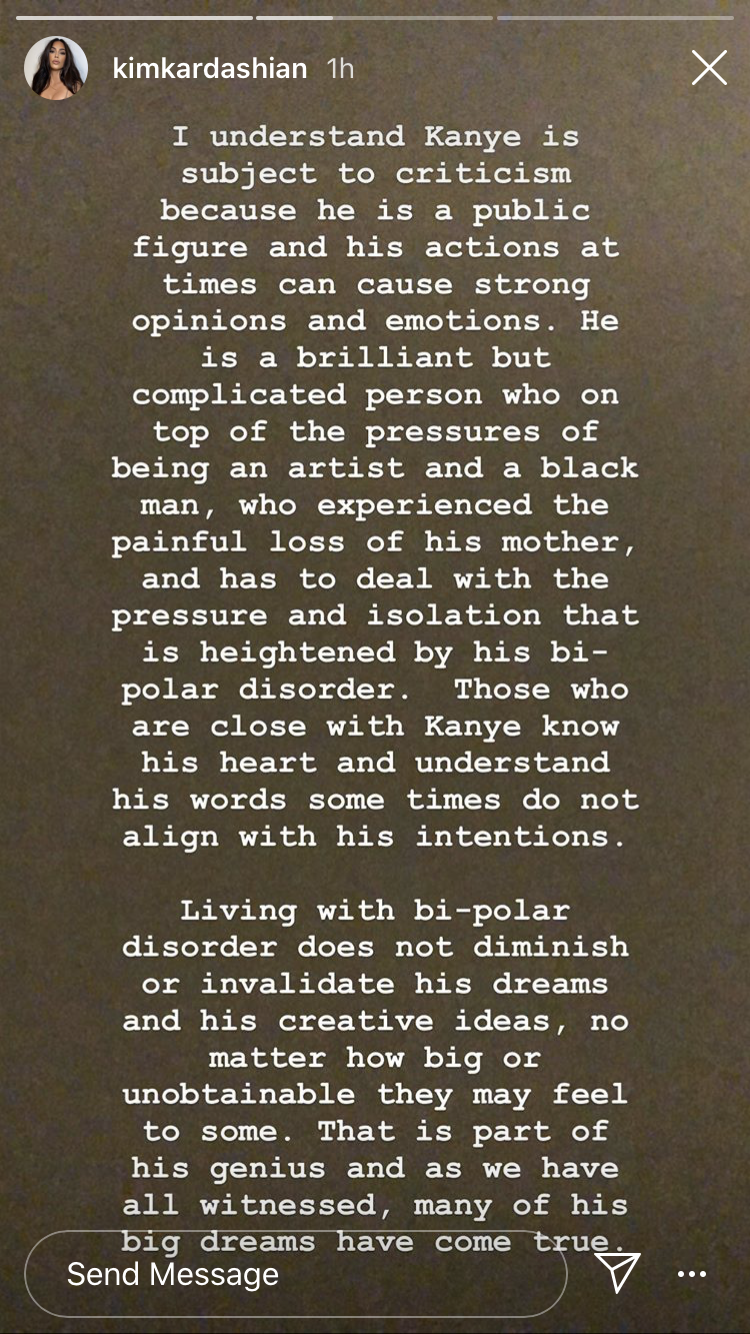 In the last slide of her Instagram stories, Kardashian made a poignant statement about giving grace to those who are living with mental illnesses.
"We as a society talk about giving grace to the issue of mental health as a whole, however we should also give it to the individuals who are living with it in times when they need it the most," Kardashian wrote.
The Keeping Up With the Kardashians star concluded by asking the media and public to "give us the compassion and empathy that is needed so that we can get through this."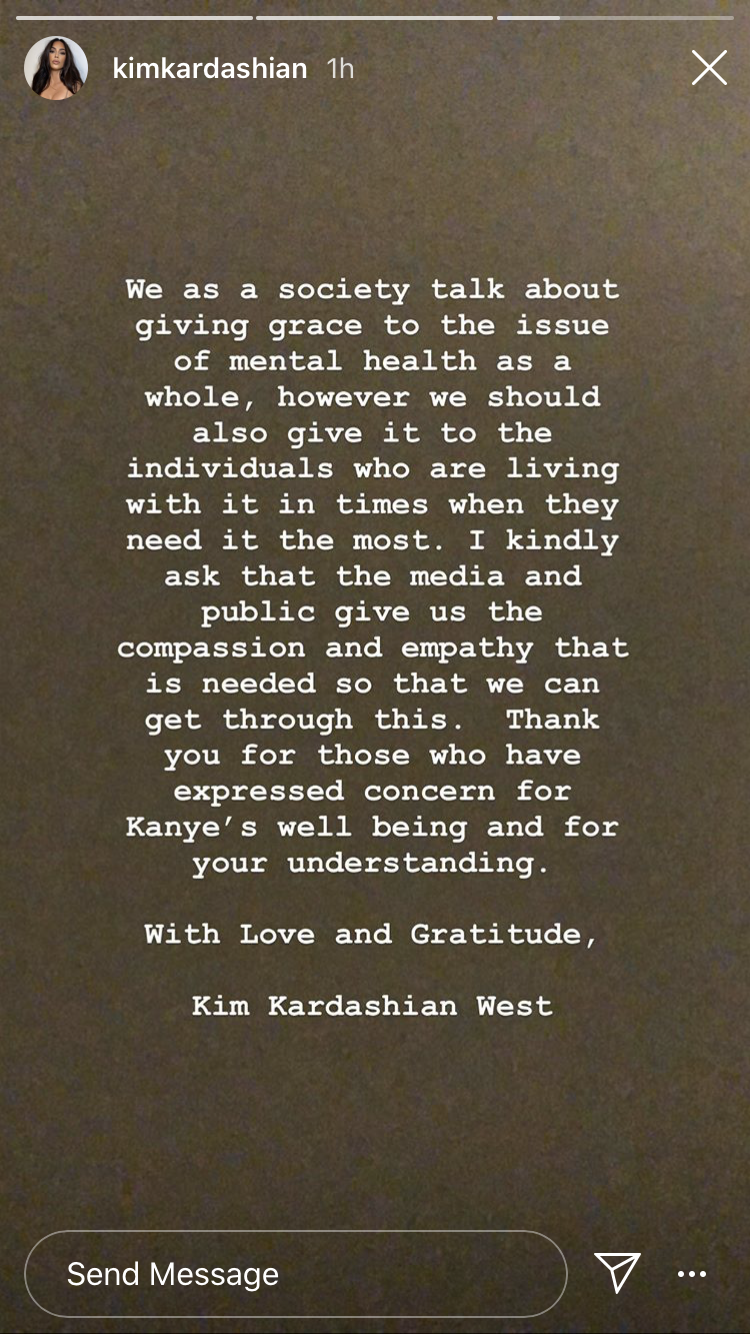 Like all mental illnesses, bipolar disorder is extremely complex, and those who have not been impacted by it do not fully understand the individual or their family members' experiences. As Kardashian said, compassion and empathy are needed always, but especially when thinking about mental health.