Kim Kardashian's latest Instagram pic has a pretty epic Photoshop fail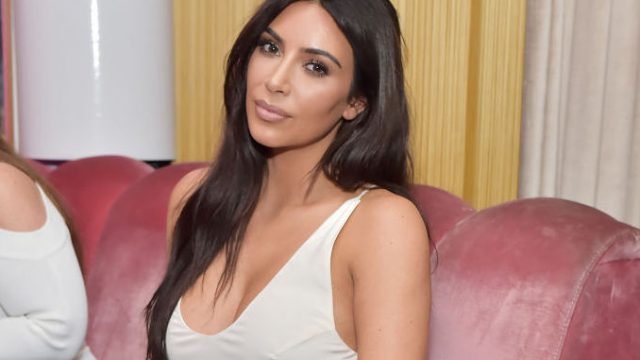 Another day, another Kardashian Photoshop fail. If you're someone who keeps up with the Kardashians on the regular, then you're aware that this isn't the first time – nor likely will it be that last time – that one of the famous ladies has been accused of Photoshopping their social media pics. Who could forget Kylie Jenner's confusing knee picture? Or Kim Kardashian's arm in the family's Calvin Klein ad?
Well, Kardashian has done it again! On Saturday, March 24th, the reality TV star and makeup mogul was in Washington, D.C. for the March For Our Lives rally against gun violence with husband Kanye West and their daughter North. And Kardashian decided to share a picture of herself. Upon first glance, it's a nice shot of her sporting a fashionable peach Yeezy jacket over a gray top and bike shorts. But upon further inspection, something about the photo isn't quite right.
When you compare it to the original paparazzi pic, it looks like Kim intended to make her waist appear slimmer. Unfortunately, she forgot to make sure the background of the photo stayed intact before she posted it on Instagram. The result? An epic Photoshop fail.
Fans immediately noticed that the curb beside her was completely (and noticeably) warped. Even more noticeable is the car in the background. It's been crushed to half its original size. Seriously, it doesn't even look like a car anymore!
Take a look at Kardashian's Photoshop fail for yourself. Can you spot it?
Naturally, the internet mercilessly mocked Kim's epic Photoshop fail because – yes – it's really that bad.
It's unclear why she would want to alter the photo since she looks great in both.
All too embarrassing, the mum-of-three later disabled comments on the post. However, she left the pic up, which can only mean she's unfazed by the shade.
In Kim's defense, we're all guilty of adding a filter to a picture to make ourselves look a little better every once in a while. Keep doing you, Kim!