Here's who Kim Kardashian beat out to be #1 on the Forbes "Mobile Moguls" list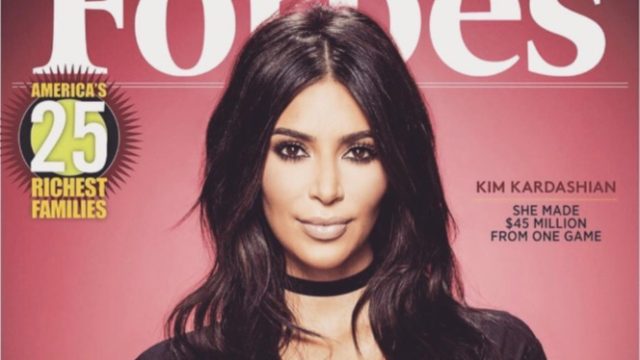 Kim Kardashian is a polarizing person. People tend to have very strong opinions about her, both positive and negative. But there's one thing you can't deny: She's an extremely hard worker and a very savvy businesswoman. So much so, in fact, that she was just ranked at the top of the Forbes Mobile Moguls list.
Kim is no stranger to being a cover girl, but this is a new kind of cover completely.
How does a former assistant to Paris Hilton go on to become a Forbes cover girl? Let's do the math. Her app Kim Kardashian: Hollywood has been downloaded 45 million times and generated $160 million in revenue since its release in June 2014. She earns 40% of her yearly paycheck from the app alone. Those numbers don't even include her app Kimoji, which fans can download for $1.99.
While Kim tops the list of Mobile Moguls, there are other celebs hot on her heels. Ellen DeGeneres released Heads Up!, a fun and addictive mobile trivia game. Katy Perry and Britney Spears released Katy Perry Pop and Britney Spears: American Dream, story-based games similar to Kim's. And Soccer superstar Cristiano Ronaldo released a soccer-themed app called Kick'n'Run. These apps have all found success, but not nearly as much as Kim.
How did Kim manage to work her way to the top of the download list? Luck? Her celebrity? Possibly. But her success is due largely to thinking a few steps ahead.
"I became really intrigued with the tech world. I started spending a lot of time in San Francisco," she told Forbes. "I realized this is really going to be the next cycle of my career and this is what I want to focus on."
Congrats, Kim! Keep doing your thing, because it's totally working.