Kim Kardashian explains why she mentioned Taylor Swift in her "GQ" interview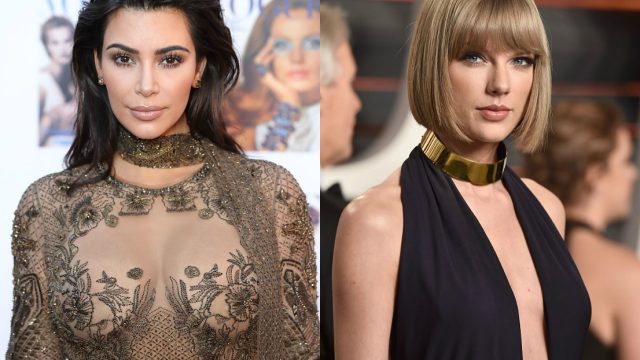 It's an unfortunate reality that accomplished, successful women in Hollywood occasionally wind up pitted against one another — usually because there are so few spots for women at the top (another unfortunate Hollywood reality). That, and because the media loves a good feud (flip back in the Hollywood history books and you'll find any number of so-called "rivalries" between mid-century screen icons). Taylor Swift and Kim Kardashian are, without a doubt, two of the most well-known icons of our generation. Both have amassed fame and fortune thanks to their ability to craft and control their public personas, leveraging the public's perception (and their own talent) to create HUGE empires. Unfortunately, things have gotten tense between the one-time friends, and Kim K. has taken time to explain exactly why she called out T. Swift over the "Famous" controversy.
A quick recap, for those who may have forgotten (or didn't know to begin with):
Way back when, the feud between Taylor and Kim's now-hubby Kanye West began when Kanye stormed the stage during Taylor's acceptance speech at the 2009 MTV Video Music Awards, claiming that despite Tay's win, Beyoncé had "one of the best videos of all time." It was legitimately an iconic moment in pop culture history, and spawned many a meme and gif in the years to follow.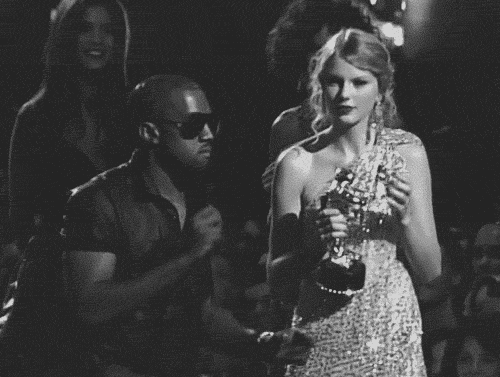 The two had apparently settled their differences by 2015, when Taylor presented the MTV Video Vanguard Award to Kanye at that year's VMA Awards show.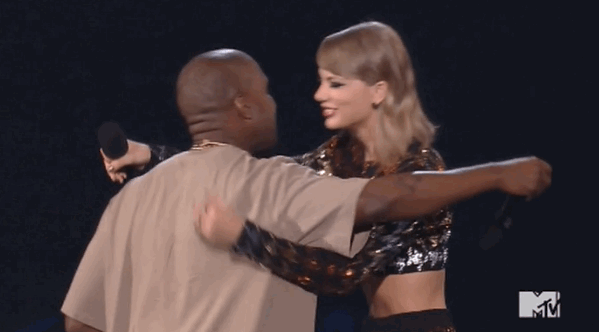 Unfortunately, their truce didn't last long.
When Kanye released "Famous," a single off of his smash-hit newest album "The Life of Pablo," back in February 2016, it included a lyric taking a very obvious (and explicit) jab at T. Swift and claiming that he "made [her] famous." Kanye's accompanying video debuted in June 2016 and featured naked lookalikes of various high-profiles celebrities, including Taylor, making the whole thing that much worse.
Naturally, Taylor was not pleased. And who would be? Any insinuation that someone other than yourself is responsible for your fame is insulting on a very basic level — especially because Taylor is a talented, award-winning artist and her fame is very clearly thanks to all that (not Kanye, I mean, come on). Things got even more heated after Kim defended her hubby in an interview with GQ, claiming that Taylor was in on it all along — that she approved the lyrics ahead of time, and that the plan was to play off the whole thing as a joke on the public's perception of the feud. Alas, Kim's comments on the now years-long Taylor/Kanye feud overshadowed the gorgeous bombshell photos of Kim accompanying the interview.
Now, Kim has "had it" with people trashing her husband and his penchant for "honesty" in a clip from Keeping Up With The Kardashians.
https://www.youtube.com/watch?v=
Kim, being a reasonable person, explains that she's more than aware that Kanye hurt Taylor with his actions during the initial 2009 MTV VMA brouhaha. But she feels that the jabs at Kanye over his stunt have run their course. "I feel like I've had it, with people blatantly treating my husband a certain way and making him look a certain way," Kim explained. "I will do whatever to protect my husband."
Kim's desire to protect her husband and shut down the public's misconceptions of him is pretty understandable. Taylor's desire not to be associated with explicit and derogatory lyrics about her is equally understandable. While we may never know what exactly went down between Taylor and the Kardashian-Wests, it's clear that both women have good points. If anything, it's unfortunate that the one-time friends were split apart because of this feud between Kanye and Taylor.
Here's hoping that they'll settle their differences and put the feud — which really has run its course, after seven years — to rest. Can we please get back to happier times, like their mini-dance party back in 2015?