Kim Kardashian and Emily Ratajkowski posted a nude for two different, empowering reasons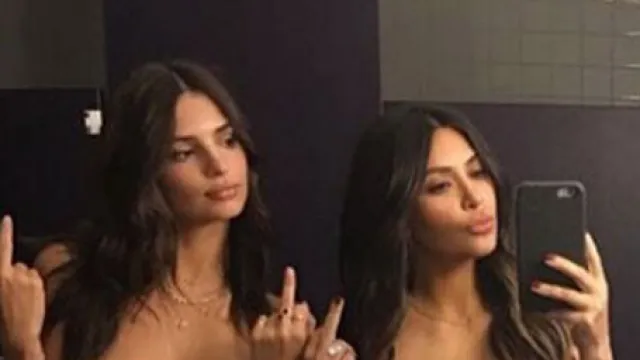 Today, Kim Kardashian posted a photo showing her and model/actress Emily Ratajkowski posing topless in a bathroom mirror. The pic was reminiscent of the nude selfie Kim shared three weeks ago, which caused an uproar of both negative criticism and positive support on social media. In the recent post, Kim even called back to her original caption, writing, "When we're like…we both have nothing to wear LOL."
Between Kim's blasé caption ("LOL") and the fact that she (and Emily) is flipping off the camera, it's clear that the reality star wants the world to know she's comfortable in her own body and with her sexuality. And that she doesn't care what any of her h8ers think. This attitude goes along with the essay Kim K wrote earlier this March, in which she wrote, "I am empowered by my body. I am empowered by my sexuality. I am empowered by feeling comfortable in my skin. I am empowered by showing the world my flaws and not being afraid of what anyone is going to say about me." 
Unfortunately, some people are already missing the point…
…Causing others to defend her choice.
Meanwhile, Emily Ratajkowski wrote a different, more direct message when she posted the same photo, about half an hour after Kim. "We are more than just our bodies," she said, "but that doesn't mean we have to be shamed for them or our sexuality. #liberated". This caption responds to Chloë Grace Moretz's tweet telling Kim Kardashian that she was setting a bad example for young women by sharing pics in the buff. 
This isn't the first time that Emily has addressed the issue of slut-shaming: She penned a moving essay for Lenny Letter in February about her life-long struggle to create her own definition of "sexy," rather than be stifled by people trying to hold her to traditional (read: more conservative) standards. She appeared nude in Robin Thicke's "Blurred Lines" and did a topless scene in Gone Girl, taking ownership of her body and her career as she saw fit. Her Instagram is filled with photos of her posing naked, or nearly, as reminders to be proud of your sexuality, whatever that means to you.

It's important to remember that all women are different — it's what makes being human awesome. And since all women are different, they will all be empowered by different things. If Kim and Emily are #liberated by documenting this topless hang out in a bathroom, who are we to judge them? To be honest, we hope every woman finds her own unique way to feel #liberated, too.