Kim Kardashian hasn't announced her third baby's name, but Twitter has some theories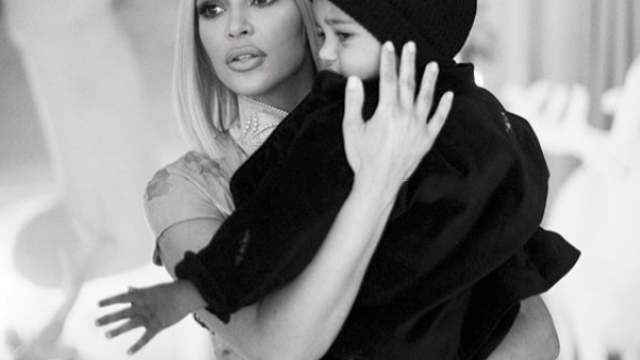 Kim Kardashian and Kanye West welcomed their third child via surrogate on Monday, January 15th, 2018, and the world is abuzz. Kardashian blessed us with the wonderful news on her website, but one thing was (noticeably) missing from the short birth announcement: any mention of her baby girl's name.
"Kanye and I are happy to announce the arrival of our healthy, beautiful baby girl," Kim announced on her website today. "We are incredibly grateful to our surrogate who made our dreams come true with the greatest gift one could give and to our wonderful doctors and nurses for their special care. North and Saint are especially thrilled to welcome their baby sister."
Kardashian has a daughter, North, and a son, Saint; so clearly, she and West are in the ~cool baby names~ business. Everyone is searching "Kim Kardashian baby name," but since the Kardashian-West family has yet to announce the name, the internet (read: Twitter) has taken it upon themselves to speculate on what it might be.
As someone on Twitter mentioned, "I'm a little too excited to hear the name of Kim Kardashian's new baby…" Honestly, same.
Here's what the internet thinks baby number three's name will be.
false false false false false
We do have some hints as to what kind of names Kardashian won't name her daughter. While some people guessed that she'd go with "directional" names like South and Easton, Kardashian told Ellen DeGeneres back in 2015 when she was pregnant with Saint why she wouldn't choose another cardinal direction.
"I do like the name Easton. Easton West. I don't think my husband likes that name, but I do like it. I don't think we'll go another direction. It's definitely not South. Every time someone says 'South' I just want to roll my eyes. It's not a good direction," Kardashian told DeGeneres.
In the meantime, you can find us over here like: false
Whatever Kardashian and West name their child, it's probably going to be epic.