Kim Kardashian just asked Tristan Thompson to unblock her in a candid Insta Story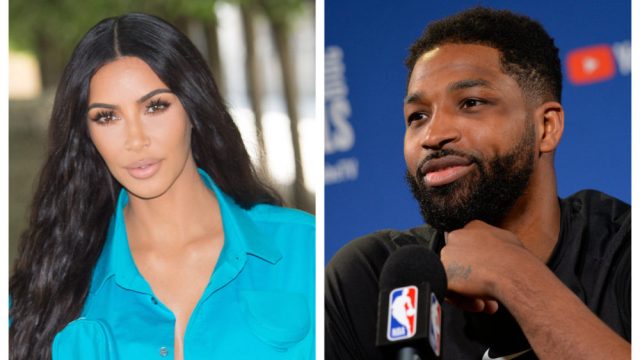 It looks like Kim Kardashian is officially making peace with Tristan Thompson. In fact, the reality star and activist just asked Tristan to officially unblock her on Instagram via Insta Stories.
In case you missed it, Kim unfollowed Tristan this past April amidst multiple reports that he had cheated on Khloé (while she was pregnant). This apparently led the basketball star to block Kim from his feed entirely. But it looks like tensions have eased, and they officially buried the Instagram hatchet during a birthday get-together for Khloé on June 27th.
"It's Khloé's birthday. Do you think I should ask this guy to unblock me?" Kim asked her Instagram followers while she jokingly pointed to Thompson in the background. Thompson laughed and said, "For Khloé's birthday — it's only right. It's only right. I got you."
In the next clip, Thompson confirmed he'd officially unblock Kim. We can hear Khloé yell in the background, "Do it right now! Do it!"
And yes, Kim did follow Thompson back, so it looks like the apparent feud is over.
While we can never truly know what's going on in other people's private lives (nor should we), we're confident that Khloé is doing what's best for her and her family right now, and we're glad she has her sister's full support.
And after witnessing a recent Twitter exchange between Khloé and a fan, we have no doubt that Khloé can handle her battles with dignity, grace, and self-appreciation.
Happy belated birthday, Khloé! We hope it was a great one.