Kim Kardashian and Alice Johnson met for the first time, and their joint interview will make your cry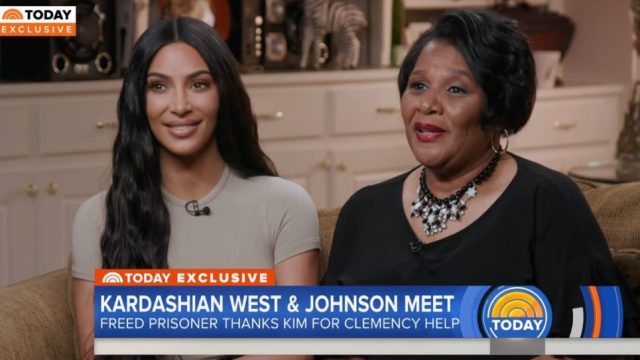 Alice Marie Johnson — a woman sentenced to life in prison for a non-violent drug offense — was pardoned by President Donald Trump last week on June 7th. And it was in no small part thanks to the effort of Kim Kardashian and her team of lawyers. Now, Johnson has returned home, and on June 14th she and Kardashian met in person for the first time ever.
In a moving joint interview on Today, the two women sat down to talk with host Hoda Kotb. Johnson spoke candidly about her arrest, revealing that she had been dealing with the foreclosure of her house and the loss of her youngest son at the time of her arrest. Even so, the 63-year-old accepted responsibility for her actions.
Kardashian has been advocating for Johnson since October, when she learned of the one-time offender's case from a Mic documentary. Initially, she retweeted the report, writing, "This is so unfair." The reality star then assembled a team of attorneys to help fight for Johnson's freedom, and her seven-month efforts culminated in a meeting with Donald Trump about the situation on May 30th. The reality star acknowledged that she doesn't agree with Trump's politics, but said that shouldn't matter when it comes to effecting change.
"I hope maybe this inspires more people to talk to the people in power — that you can have an effect over them for the greater good of other people," she said on Today.
https://twitter.com/udfredirect/status/1001961235838103552
Ultimately, Kardashian was the one to tell Johnson the good news.
"I believe she said, 'You can go home now. Are you ready to go home?'" Johnson recalled. "When she said that I went into full-fledged Pentecostal holy dance…I was dancing, I was jumping, I was screaming."
https://www.youtube.com/watch?v=zSLw5mIyqC8?feature=oembed
Both women said that they would continue to advocate for others in Johnson's position. Kardashian said she has sent similar cases to the White House, and Johnson noted that her connection to others like herself meant she would keep fighting for them.
"I plan on continuing to magnify this issue," Johnson said. "I can't stop. I can't stop. I've lived it. I've walked with them. I cried with them. My life is completely intertwined forever with those who are left behind."
Kardashian's activism in this case is a reminder that one person really can make a difference. We're so glad that Johnson has finally been reunited with her family, and we hope her story leads to much-needed reforms within our criminal justice system.