Kim Kardashian publicly addressed Tristan Thompson's cheating and, damn, she did not mince words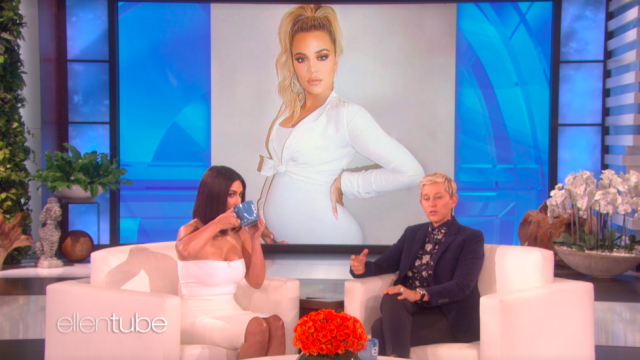 Since news broke that Tristan Thompson cheated on Khloé Kardashian just days before she gave birth to their daughter True Thompson, the Kardashian-Jenner crew has been silent in regard to Khloé and Tristan's relationship. But on April 27th, Kim Kardashian went on The Ellen Show and spoke very candidly about Tristan's cheating.
"I don't even know how to describe it besides it's so fucked up," Kim said, which was met with loud murmurs of agreement from the audience.
This is the first time someone from the family has addressed the cheating scandal head-on. However, that was all that Kim would say on the matter after she explained the "rule" she made for herself when speaking publicly about something that concerns one of her sisters.
"We really were rooting for Khloé — and we still are — she's so strong and she's doing the best that she can. It's a really sad situation all over," Kim said. "[But] if there's a baby involved, I'm gonna keep it cute, keep it classy, not talk too bad, try not to say anything so negative, because one day True is going to see this and it's so messed up."
Various sources have come forward with a mixed-bag of intel regarding Khloé and Tristan's relationship. Some sources report that the couple isn't on speaking terms, while others think Khloé could forgive him. The only thing we've heard from Khloé herself is the birth announcement in which she notably gave True her father's surname and used pronouns like "our" — as if suggesting a united front.
Even though Kim has her sister's back, only Khloé can decide the fate of her relationship. As always, we're sending love to Khloé and baby True.