Kim Cattrall made the most cryptic comment about Cynthia Nixon running for governor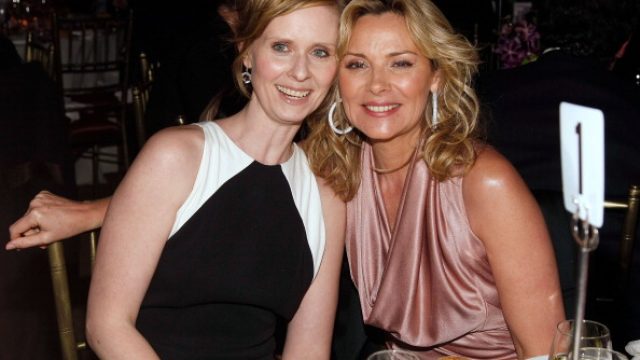 In case you haven't heard, actress Cynthia Nixon has declared her campaign to become the next governor of New York. Between her busy acting career, her political activism, and her 2009 Grammy win, Nixon has done a lot over the years. But most people still know her as Miranda Hobbes, the ambitious lawyer on Sex and the City. And this has led many to wonder what Carrie, Samantha, and Charlotte — or at least the actresses who played them — think about their co-star's political aspirations. Now, Kim Cattrall has broken her silence on Nixon's run for governor.
Today, March 22nd, Cattrall responded to one fan's question about her thoughts on Nixon's campaign. Her response was brief and to-the-point but nevertheless demonstrated respect for Nixon.
"I support & respect any former colleague's right to make their own career choices," Cattrall tweeted.
Granted, Cattrall's tweet doesn't necessarily imply a political endorsement, but it's still nice to see her supporting her former coworker. And Cattrall is not the only SATC star to address Nixon's ambitions. Kristin Davis, who played Charlotte, offered a passionate endorsement of Nixon.
"I am so proud of @CynthiaNixon," she tweeted after Nixon announced her campaign. "No one cares more than she does about EVERY person getting a fair change and a good education. I know that she would be an excellent Governor!"
Fans, however, were a bit divided over the meaning of Cattrall's comment.
false
The fourth member of the SATC squad, Sarah Jessica Parker, has yet to comment on the Cynthia for New York campaign.
Regardless of Cattrall's political views, it seems like the actress has a respectful attitude toward Nixon's foray into politics. And, especially given the recent feud between Parker and Cattrall, we're glad to see that it's not all bad blood between the old co-stars. We'll be watching Nixon's campaign with bated breath.