Singer Kim Burrell won't appear on "Ellen" after all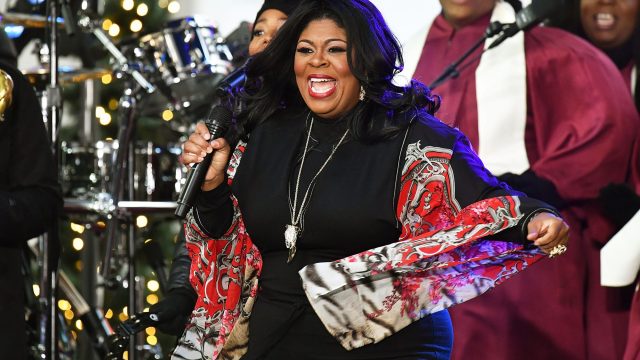 Today in news that is both totally expected and absolutely justified, homophobic singer Kim Burrell won't appear on Ellen on Thursday, January 5th alongside Janelle Monae and Pharrell Williams after all. Phew.
In case you've been living under a rock or were just enjoying your holidays, Burrell, a gospel singer who performed a duet with Williams on the soundtrack for Monae's hit film Hidden Figures, was filmed making shocking homophobic comments during a recent sermon at her Houston, Texas church. Her words were harmful enough as is, but the fact that Burrell has performed with Frank Ocean and, until today, was scheduled to appear on The Ellen DeGeneres Show had people especially upset, with a Change.org petition to "Stop Gospel Singer Kim Burrell's performance on The Ellen Show" garnering thousands of signatures.
Lucky for the signees, their outrage was heard by DeGeneres loud and clear.
DeGeneres' decision to exclude Burrell from the Hidden Figures party should should come as no surprise, as her words to her congregation were inflammatory, judgmental, and extremely graphic.
"You as a man, you open your mouth and take a man's penis in your face, you are perverted," she says in the video. "You are a woman and will shake your face in another woman's breast, you are perverted."
https://www.youtube.com/watch?v=fT5gpBaFpaw?feature=oembed
Burrell did release a video statement after the original video went viral — her name was the number one trend on Twitter for hours — but never once took back her feelings about the LGBTQ community. https://www.youtube.com/watch?v=YlRxnjS7IY4
"To every person that is dealing with the homosexual spirit, that has it, I love you because God loves you, she said. "But God hates the sin in you and me, anything that is against the nature of God. I'm called to do what God called me to do, and that's it, and I do it with passion.
Williams and Monae both expressed their dissatisfaction with Burrell's words on Instagram, and in the hour since DeGeneres posted her succinct tweet, fans have been showing their appreciation with loving words (and many, many GIFs).