The Killers just teased their first new song in five years, and we have to hear more!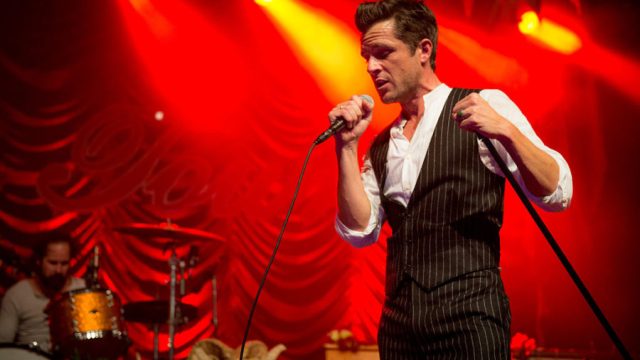 It's been five years since we've heard any new tunes from the rock band The Killers. The Las Vegas-formed group have headlined festivals, released annual holiday singles, and survived a fast-food feud with Panda Express. Things ended amicably, of course.
But orange-chicken fun aside, we haven't heard any new music since 2012's Battle Born. Earlier this week, the band tweeted to fans that something new was coming, and invited followers to sign up for their email list. This foretelling photo had fans amped up and ready to go.
Well, Killers fans, smile like you mean it (and we know you will). On Friday (June 9), the band shared a teaser of their new single "The Man" on Twitter. 
The video features a blurred-out black-and-white image against a new upbeat rock song, featuring heavy bass and a thumping disco beat. There's also a short snippet of audio, but not much context to give away the song fully.
To say The Victims (aka the loyal fanbase for The Killers) are freaking out is an understatement.
false false
It gets even better.
Fox Sports Australia reports that The Killers will release their new single "The Man" on June 15th. They also will reportedly release a new album 10 days before they headline at this year's Australian Football League (AFL) grand finale on September 30th.
The AFL has yet to confirm The Killers' booking, but Fox Sports Australia says it confirmed the news with unnamed "music industry sources."
If the teaser and fan excitement is any indication, this album is gonna' rock.
And uh, more Brandon Flowers is never a bad thing.