Kiernan Shipka shared a video from the Chilling Adventures of Sabrina set, and we're joining this coven ASAP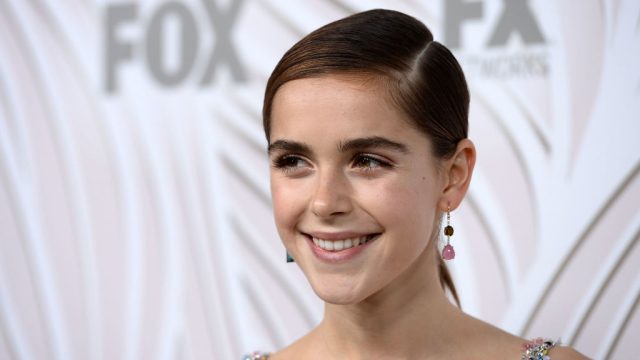 Just a few days after Chilling Adventures of Sabrina shared its first poster with the world, we're (finally) starting to see more and more sneak peeks of the show. Kiernan Shipka, a.k.a. our new Sabrina Spellman, shared a video on Instagram of her and her castmates from set. And this is definitely a group of witches and warlocks we want to hang out with.
In the vid, Shipka appears in full costume with her fellow cast members. She greets us with an enthusiastic, "Hey, witches!" before turning the camera to the rest of her spooky squad: Miranda Otto (Aunt Zelda), Lucy Davis (Aunt Hilda), Gavin Leatherwood (warlock Nicholas Scratch), and Chance Perdomo (Sabrina's warlock cousin Ambrose). Together, they shout, "Welcome to our coven!" And honestly? We've never wanted to join a group more. Sign us up.
Fittingly, Shipka posted the video on Friday the 13th. She's taking to her new life as a (fictional) witch very well!
https://www.instagram.com/p/BlLgblaB0nZ
Unlike the original show starring Melissa Joan Hart, the new series will be a darker take on the supernatural. According to The Hollywood Reporter, this version will show Sabrina "wrestling to reconcile her dual nature as a half-witch, half-mortal while fighting the evil forces that threaten her."
Given that Chilling Adventures of Sabrina has the same showrunner as Riverdale — Roberto Aguirre- Sacasa — we're likely in for some surprises. Aguirre-Sacasa originally pitched the show as a companion series to Riverdale, since the characters all exist in the Archie Comics universe. However, instead of airing on The CW alongside Riverdale, Netflix picked it up for two seasons with 20 episodes each.
Aguirre-Sacasa also posted some tweets on Friday the 13th that hint to the darker nature of the reboot.
The show's official Twitter account began posting, too.
It's all happening! We still don't know the official premiere date for Chilling Adventures of Sabrina. But if we had to guess, we bet it'll hit our queues sometime in October.