Kiernan Shipka drastically changed her hair for her Sabrina audition, and that's commitment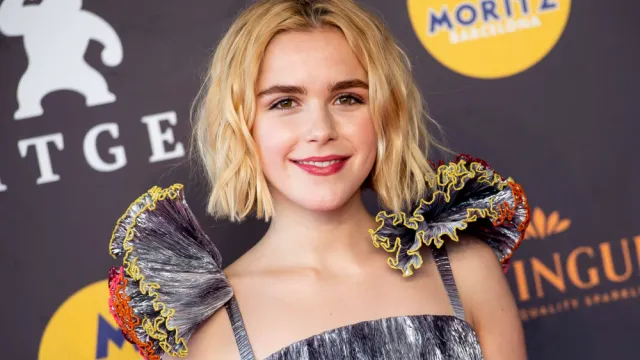 Kiernan Shipka knew she wanted the part of Sabrina Spellman when she auditioned for Chilling Adventures of Sabrina—and she was willing to do what she had to do in order to score the iconic role. And that apparently meant dying her "long, dark brown hair"…hair that she loved.
"I had long, dark brown hair during my first audition and was really just living my best life," she told Glamour in an interview. "I've always been blonde, so it was like, 'I'm free from blonde hair!' I figured if I got the role, I'd probably have to dye it, which was fine," she added.
https://www.instagram.com/p/dLUx3ylLeQ
Alas, her brunette locks were not meant to be, because the producers wanted to see her as a blonde before she got cast.
"After my audition they were like, 'We gotta have you audition again, and we think you need blond hair for it,'" she recalled. She also, of course, had to cut her hair into Sabrina's signature bob.
"This is one of those industries where you never have full control of your hair," Shipka continued. "But the bob is 100 percent my jam. I love it. It's so low-maintenance. It takes two seconds to do my hair."
It just so happens to look perfect on her, too.
The hairstyle isn't all the actress committed to when she stepped into Spellman's witchy shoes. She spent the three months before filming doing as much research and script-prep as she could.
"I worked probably upwards of three times a week with my coach developing her character and working on the scripts," she told HelloGiggles in an exclusive. "I did a lot of vocal work and I did a fair amount of research on witches, but not a crazy amount, because that wasn't something that was applicable to Sabrina. I do research on that on my own just because I find it interesting, but as far as Sabrina, she's pretty new to the witch side of herself. She's quite green. I took a lot of time to get to know her and mess around with the character and figure things out. It was really fun."
The Chilling Adventures of Sabrina launches on Netflix on October 26th.