Kiernan Shipka says BFF Timothée Chalamet is so much a part of her family, he should change his last name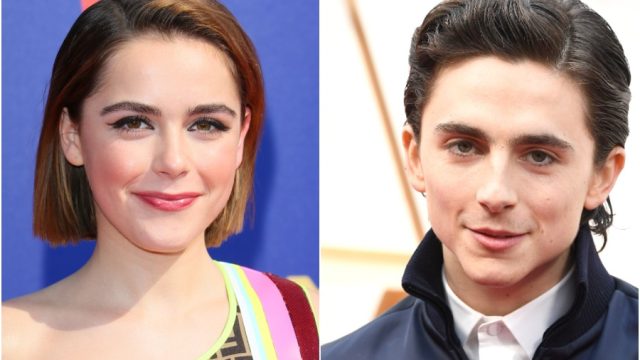 Chilling Adventures of Sabrina star Kiernan Shipka has quite the roster of famous friends. She hangs with Lorde (whom she calls by her given first name, Ella), Beanie Feldstein, Amandla Stenberg, and of course, Timothée Chalamet. In fact, she and Chalamet are so close, Shipka says he might as well change his last name from Chalamet to Shipka.
Shipka and Chalamet (which sounds like an incredible indie band to us) met on the set of the 2015 thriller One & Two. They played a brother and sister duo who find out they have supernatural powers. Shipka was 14 years old at the time of filming, and Chalamet was 18. They bonded on the South Carolina farmhouse set, and she said they ended up leaving the shoot feeling like actual siblings.
"It's like watching your brother do amazing things," she told Refinery29 about being there as Chalamet soared to the A-list after appearing in the hit films Call Me By Your Name, Lady Bird, and Little Women. "My mom drove him to his final audition for Beautiful Boy."
She continued, "He's such a part of the Shipka clan. He should hyphenate his last name, actually."
Timothée Chalamet-Shipka? Or Timothée Shipka-Chalamet? Either sounds even more star-powered than his OG name.
In 2019, Chalamet told W Magazine that he, too, feels like he's a part of Shipka's family.
"[Her family] has always been really, really kind to me," he said. "I didn't really know a lot people on the West Coast when I first started coming out here, so they always took me and really made me feel like one of their own."
And let's be clear: Just because she hangs out with and posts photos with men, it doesn't mean they're dating—despite all the "shipping" that goes on in the comments. For now, Shipka is all about keeping her romantic life private and even "mysterious."
"I don't necessarily engage with any kind of speculation. I'll look at it and laugh at it, but at the end of the day, it doesn't seep into my actual life," she told Refinery29. "I keep my romantic life mysterious."
We're grateful that while her romantic relationships are mysterious, her brother-sister bond with Chalamet is crystal clear. We're crossing our fingers that the duo will reunite onscreen sooner rather than later.