Kiehls' new Apothecary Preparations custom serum is exactly what your skin has been waiting for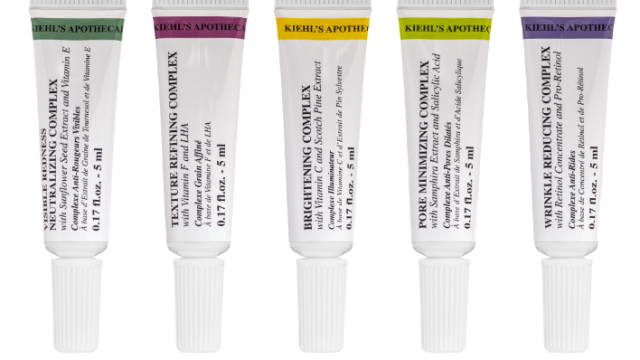 One of the biggest trends in skincare right now is serums — they're pretty much everywhere you look. Earlier this year, the Korean beauty scene introduced us to the curiously named Shark Sauce, and cult fave Glossier came out with their own serum kit in September. You might first scoff at adding another step to your daily routine, but serums can seriously amplify your beauty regimen and bring some much never-knew-you-needed-TLC to your skin.
If you're a fan of Kiehl's, you might be excited to hear that they have taken personalized skincare to another level with their new bespoke serum service.
Apothecary Preparations is not just the name of a new product, it's an experience comparable to getting a magic potion made for your skin. Everything is done in person — you arrive at one of Kiehl's nationwide locations to get your skin analyzed by a Kiehl's customer representative, aka KCR. After testing your skin's hydration, the KCR will guide you through a series of skin-related situations and concerns, such as redness, rough texture, large pores, dullness, and wrinkles. These concerns will help you figure out which Targeted Complexes you'll want to include in the serum. Then they'll ask you to rate your skin on a scale from 1 to 4 for each one.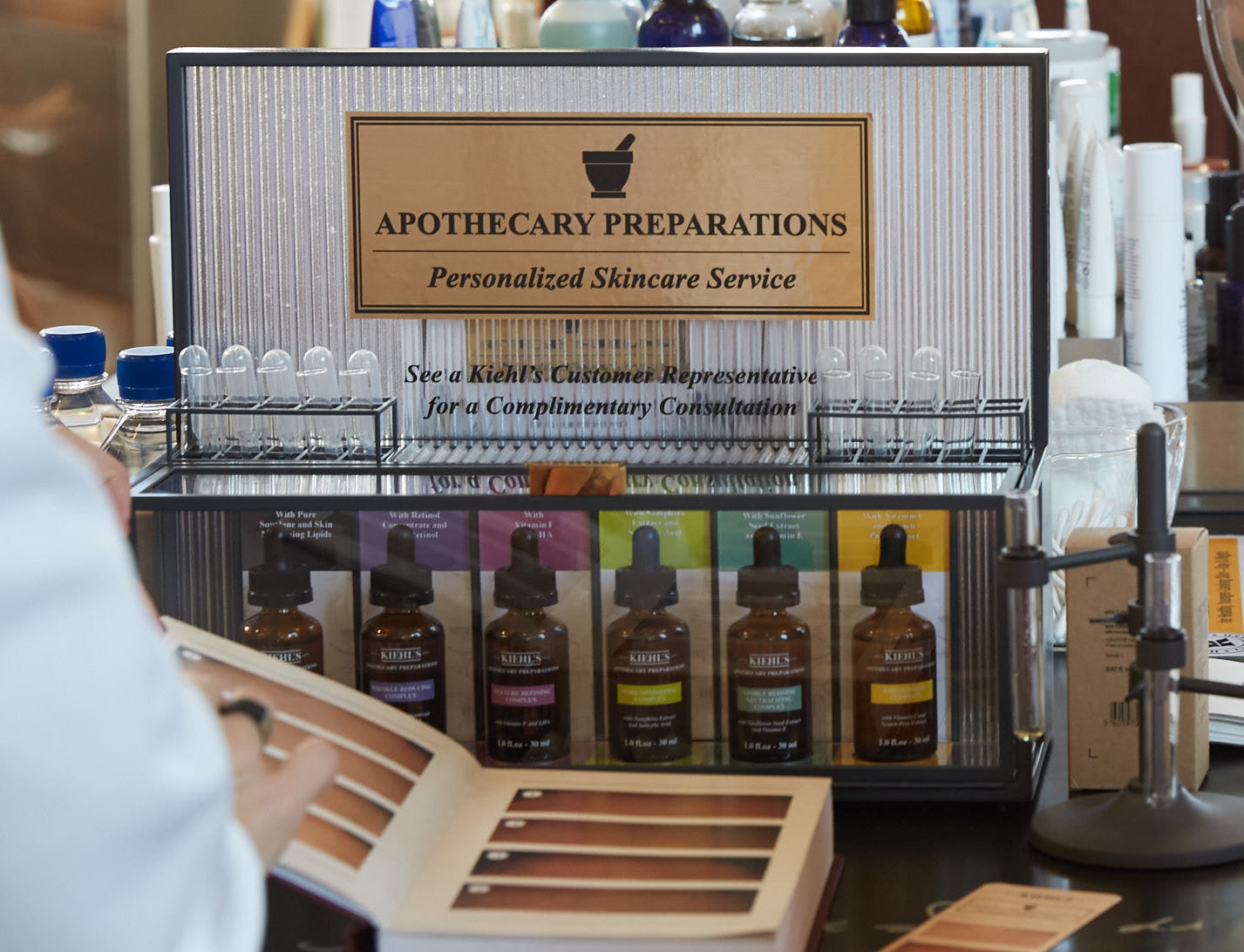 This new offering from Kiehl's also pays homage to the brand's old-school apothecary beginnings. "We're thrilled to have the opportunity to go back to our apothecary roots with the introduction of Apothecary Preparations," Kiehl's US President, Chris Salgardo, said in a press release. "We've always been committed to a high level of customer service, but with Apothecary Preparations, we can elevate that experience even more by giving customers a deeper understanding of their unique skin concerns and needs while delivering a completely Skin Strengthening Concentrate personalized facial concentrate they can activate themselves."
I was able to experience the new Apothecary Preparations in person and was quickly impressed by how much care and attention was put into my consultation. When they tested my skin's hydration levels, I wasn't TOO surprised when they said my skin was pretty dehydrated. I definitely don't drink enough water, but I'm hoping this reality check (and my vanity) will convince me to keep filling up my bottle on the regular!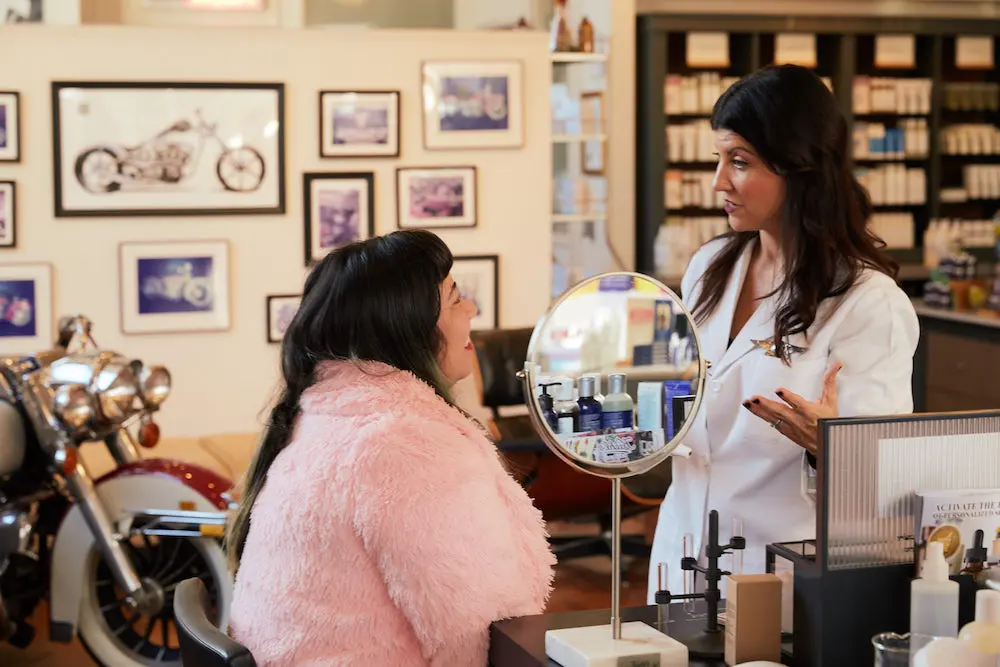 After getting up close and personal with my face, and assessing its needs, I decided that my Targeted Complexes should be pores and texture, so those were the ones I chose for my own personal formula blend.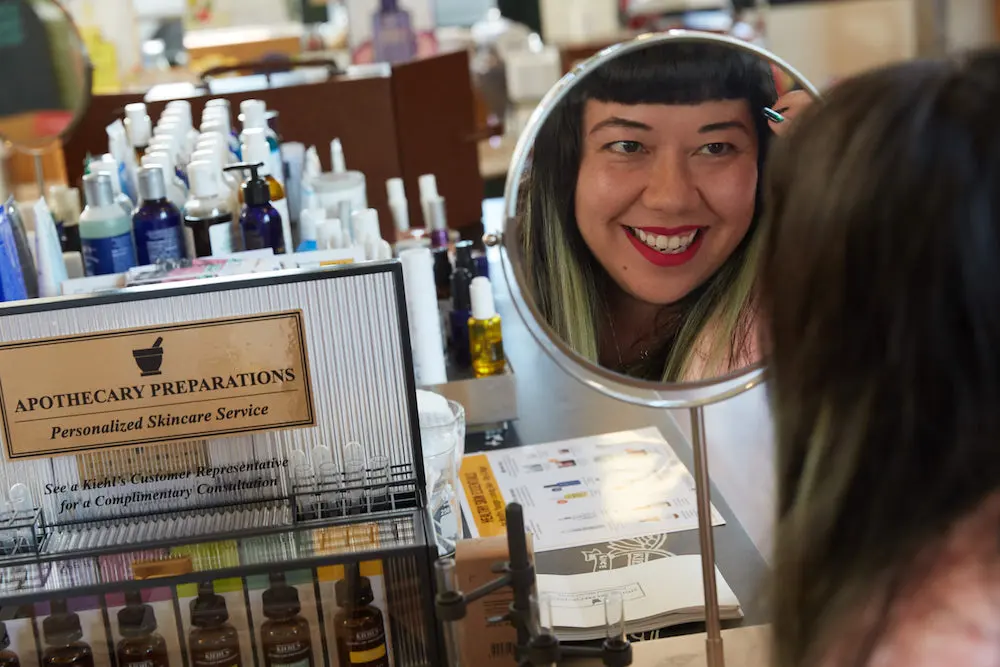 The KCR then combines the three parts needed for the serum. First up is the base, Kiehl's Skin Strengthening Concentrate, followed by the two Targeted Complexes. The KCR then prints a personalized bottle label including your name, details of the formula, and directions. Once you're home and ready to embark on your new skincare adventure, you activate the concentrate by mixing the formula yourself. You would then apply the serum after cleansing, but before using moisturizer. Once mixed, the formula will last about six months.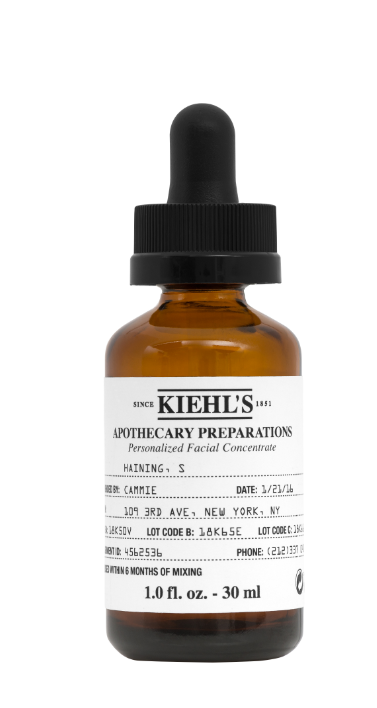 Apothecary Preparations is a permanent offering at Kiehl's and retails for $95. You can find the closest Kiehl's location to you on their website.