The kids from "Stranger Things" performed "Uptown Funk" at the Emmys and it's adorable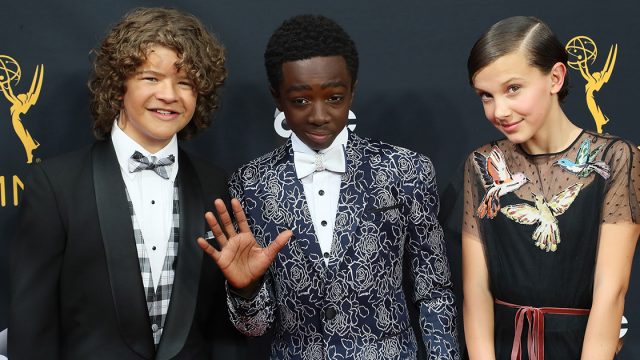 Last night's Emmys were an super eventful. Not only did we get emotional and political speeches, but there was so much incredible fashion on display that we didn't know where to look.
We also saw that during show the kids from Stranger Things were busy delivering sandwiches to hungry guests.
However, we've just seen that Gaten Matarazzo (Dustin), Caleb McLaughlin (Lucas), and Millie Bobby Brown (Eleven) gave the Emmys audience a performance of Mark Ronson and Bruno Mars' "Uptown Funk" before the show and OMG it's ADORABLE.
The performance wasn't broadcast on television as part of the telecast, but luckily people captured the magic moment and uploaded clips on to social media. false
We knew that Millie Bobby Brown and Gaten Matarazzo were AMAZING singers already, having already sniffed out clips of the two stars performing on YouTube, but we never thought that the when put together with Caleb the three could become the super group of our dreams.
Seriously, just look at them!
false
While this year Stranger Things wasn't nominated for an Emmy, we're pretty sure that the show, which premiered on Netflix this summer and has already been recommissioned for  second season, is a shoo-in for next awards season.
Speaking to E! News, the trio said that they were excited to see everyone else who was attending the show that night. When quizzed about what the best part of their ascension into fame, Matarazzo said said that it was people that he'd met.
"The best part about the ride is meeting everyone that loves the show," he said. "They're all super great to us and I just respect them for coming up to me and asking for pictures and stuff. The fans have been the best part of this ride."
Stranger Things returns to Netflix in 2017.