This kid is the youngest yoga teacher in the country, and we want to learn from him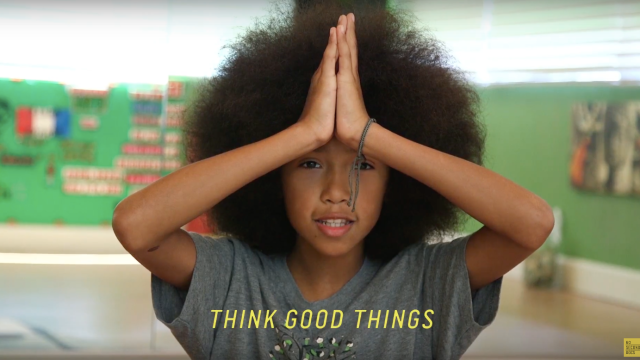 What if we told you that the newest yoga celebrity is an 11-year-old boy? You better believe it. Tabay Atkins is, according to his mother, the youngest certified yoga teacher in the United States. His sweet demeanor, love for his mom, and awesome hair make him the yoga star of our hearts. (But we can't forget the goats.)
Tabay started getting into yoga at age 6, when his mom, Sahel Anvarinejad, began practicing as part of her recovery from stage 3 Non-Hodgkin's Lymphoma.
"I wanted to [become a yoga teacher] because my mom had cancer," he told YogaJournal.com.
"I saw how yoga was healing her, and I told her I wanted to teach yoga to help people heal the way yoga helped heal my mom," he explains.
Anvarinejad got certified in 2013, and opened her yoga studio, Care4Yoga in San Clemente, California. Tabay was around a lot, pitching in to help run the studio. Then, last summer, Tabay became the youngest certified yoga teacher in the country, after being the youngest person ever to complete the 200-hour YOGAthletica teacher training.
His students love him. How could they not?
"His classes are the most full classes we have at the studio," Anvarinejad says.
Perhaps even more remarkable than his age is the fact that Tabay donates ALL of the proceeds to his classes to help kids that have cancer.
ABC Breaking News | Latest News Videos
"I want to change the world, and help heal more people," Tabay says in a video by 60 Second Docs.
"I think if everyone in the world knows about yoga, then the world would be a better place," he continues.
Amen and namaste to that.