This kid just did what all of us secretly want to do at every wedding
Weddings are great. They're beautiful and full of love. But they can also be super boring. Sometimes you have to wait what feels like forever for the bride to walk down the aisle, and then people start to get a little antsy. And for good reason—food and beverages are so close, but still so very far. Plus all the vows and stuff.
Enter this hero boy, who made all of our wedding fantasies come true. Not the ones about love and our own weddings. The ones about jumping full force into a giant pile of tulle.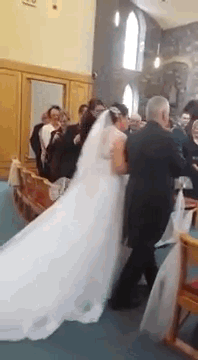 As the bride was walking down the aisle, he saw an opportunity. As the bride, in her poofy white dress, headed down the aisle towards wedded bliss, the kid made his move: He jumped full force onto her train, as if it were a ball pit at Chuck E. Cheese's.
Check out the kid we all want to be: