Khloé posted a rare pic of Kylie this morning, and it's a Christmas miracle
As we patiently await the release of the full and final Kardashian family Christmas card, we have admittedly been compulsively checking the Kardashian siblings' social media feeds. And it appears as though Khloé Kardashian posted a Snapchat with Kylie this morning, fanning the rumor of Kylie's pregnancy even further.
This comes on the heels of last night's annual Kardashian Christmas Eve party in which every Kardashian-Jenner sister made an appearance except Kylie.
In the Snapvideo, Khloé, standing next to Kylie, said, "Merry Christmas! People think you weren't there last night, to which Kylie replied, "I was. "She's a secret little bunny, Khloé added.
For those who don't obsessively follow Kardashian-related news, Kylie has yet to confirm or deny whether she is, in fact, pregnant. Many fans firmly believe that the big reveal will happen today, Christmas 2017, but for now it's only a theory. Kylie has been laying super low in recent weeks and has been mostly posting older photos to social media, so this makes today's appearance all the more noteworthy.
Here's the rare photo.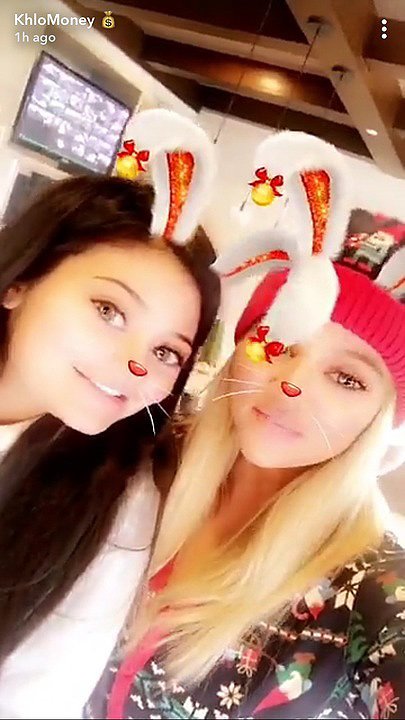 Note that — as with all recent images of Kylie — the majority of her body is distinctly out of frame. So, as always, we must continue to wait for any official confirmation on a pregnancy. Le sigh.
The good news is, Khloé also posted a bunch of super cute pics of the rest of the clan to her Instagram account, and we're currently basking in the glory (and we're also obsessed with Kris's outfit…A TRUE QUEEN).
We're keeping our eyes peeled on all things Kardashian-Jenner today, and will let you know asap should anything major break. Because we live for this.