Khloe, Kylie, and Kendall just wore these bonkers disguises to take an undercover tour of Hollywood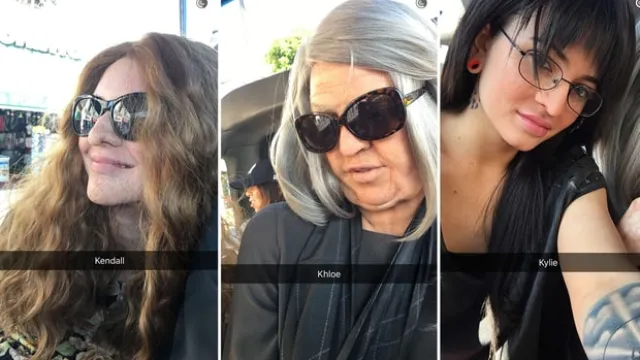 It's no secret that the Kardashian family have very recognizable faces, but do they really need to wear full-on disguises to ride a Hollywood tour bus? The answer is yes, yes they do. Khloe and her half-sisters Kylie and Kendall wore prosthetic make-up for this wild adventure, and they fooled everyone.
Khloe went as an elderly woman with saggy skin and hair, and apparently told the tour guide that she was from the South and born in 1937! That would make her… old (79, to be exact). Kendall donned a large fake nose and scruffy red wig, kind of resembling an aging rock star with big black glasses. Kylie also went for an edgier style, with choppy hair, ear plugs (weird?) and glasses.
At one point Khloe said to Kylie, "Ask about the Kardashians?" The response was priceless. "Kartrashians. I don't want to talk about the Kartrashians."
As the girls documented their bizarre makeovers on Snapchat, fans realized what was happening and started to wave and yell at the Kardashians. But they didn't falter, and took the opportunity to mess with everyone on the bus. They laughed, made jokes and feigned interest in all the popular celeb spots, including some of their own favorite restaurants. Once enough was enough, the girls got off the bus at the Beverly Hills Hotel, and sprinted away from photographers.
On the way home, some amazing videos surfaced when they peeled off their prosthetic make-up. OUCH! Looks painful, but worth it for our entertainment pleasure.