Khloé Kardashian wore a mysterious ring set in her pregnancy announcement, and Twitter has some feelings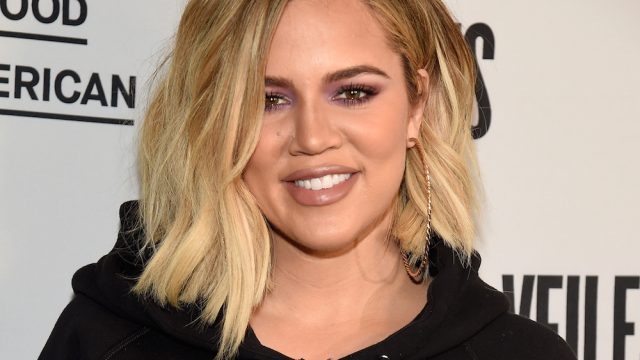 With her shocking pregnancy announcement Instagram photo yesterday, it's safe to say that social media is still buzzing about Khloé Kardashian, especially since she wore a mysterious ring set in the photo with Tristan Thompson, allowing people to speculate that there may be some wedding bells for the couple in the near future.
The pregnancy announcement photo (which already has over seven million likes on Instagram) of course shows off Khloé's baby bump, which many fans have been speculating about for quite some time now. However, what is leaving the internet really perplexed is the diamond ring set. While Khloé and Tristan haven't announced that they're engaged, celebrity jeweler George Khalife tells us that the rings appear to be eternity bands featuring up to 15 carats of diamonds.
"They look to be Asscher cut eternity bands," Khalife tells HelloGiggles. "One looks larger than the other, the smaller one seems to be about 8 to 10 carats retailing around $100K and up. The largest band looks around 12 to 15 carats retailing as much as $200K. Larger diamond bands like these can get pricey because you must perfectly match the diamonds. Inclusions can be very noticeable in cuts such Asscher and emerald so easy to spot imperfections."
They are the cutest, aren't they?
While we're still waiting for an official announcement from Khloé regarding impending nuptials, we'll happily live through these hilarious tweets.
false
This is one investigation we all can seriously get behind.
Our thoughts exactly. false
Don't let the baby bump fool you — internet sleuths are catching on quick.
We'll be watching the new episode of Keeping Up With The Kardashians for any special announcements.