Khloé Kardashian and Tristan Thompson's seemingly "united front" on Instagram isn't the whole truth, according to reports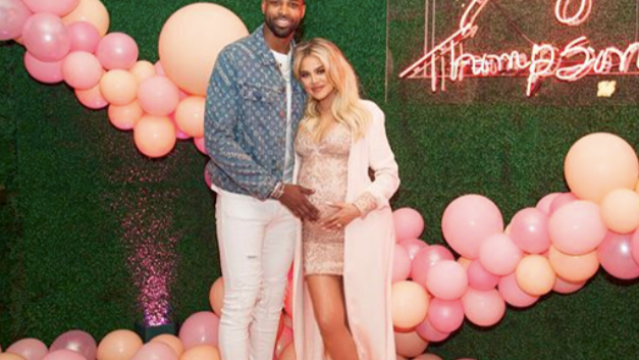 When Khloé Kardashian announced the name of her baby girl (True Thompson) on Instagram, many were shocked that Khloé gave her daughter Tristan Thompson's last name despite the reports that he cheated on her with several women, including right before she gave birth. Besides the surname shocker, others were surprised by the way she announced the birth, with mentions of "mommy and daddy" and "our little girl." However, a new source tells TMZ that while it may seem like the couple has cleared the air, that "united front" you see on social media isn't the full story. The apparent reality is that Khloé is still unsure about her future with Tristan.
"Khloé has not spoken to Tristan for several days because she's still furious after finding out he repeatedly cheated on her, and embarrassed her in the process," a source (hm) told TMZ.
Apparently, Khloé has not forgiven Tristan and she's only "putting on a brave face for the sake of their daughter."
Rob Kardashian and Khloé's four sisters are also reportedly "livid" with Tristan. According to sources, the only reason Khloé and some of her family are still in Cleveland, Ohio is because all the baby stuff is there and Khloé hasn't been medically cleared to fly yet.
Another report claims that Khloé wasn't even sure what surname to give her daughter. "[Khloé was] beyond conflicted on whether to go with Kardashian or Thompson when it was time to fill out True's birth certificate," according to the source, who added that she took a few days to make the difficult decision.
People.com reports that Khloé hasn't made her mind up about Tristan either way, and that her only priority right now is being a mom. "As for her relationship with Tristan, she'll look at next steps when she's ready," adds the source.
As always, we support Khloé and whatever decision she makes. We're sending so much love to Khloé and baby True right now.