Khloe Kardashian clears up what the revenge in "Revenge Body" actually means, and we're listening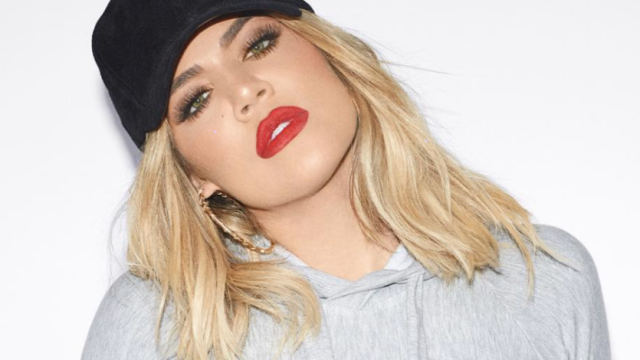 What IS a revenge body? Well, reality star Khloe Kardashian clears up what the "revenge" in Revenge Body actually means and we get where she's coming from.
Ahead of her new E! series, Revenge Body's premiere (which is today), Kardashian is getting real about what the word "revenge" really means to her in regards to fitness. In fact, her reasoning behind using that word makes us want to workout even more now.
The new series shows normal people, who have lost their way, or struggle to lose weight for whatever reason, as they get back on track fitness wise.
The 32-year-old reality star uses her own gym journey and workout changes to help guide the participants on the show and it's really personal to her.
"It's my journey," Kardashian told NBC's Natalie Morales about the show's theme.
"People always say that, well, revenge — it means you have to be getting it on somebody else...for me, revenge was getting it maybe like on my old self," she explained.
You can embrace your body or you can get revenge on your body, to each her own.
https://www.instagram.com/p/BPKzlBKBQXQ
The show not only focuses on the contestants losing weight, but it deals with "really emotional things," the youngest Kardashian sister said. "They don't know how to pull themselves out of this hole," she added.
The Keeping Up With the Kardashians star also opened up about her own journey with weight loss and revealed that she never thought she'd be so healthy.
"If you would have asked me five years ago if anyone would have put me in the fitness category, I would have said, 'You're out of your mind. Theres no way. I'm the fat, chubby, unhealthy sister of Kourtney and Kim,'" she admitted.
Her rise to fame on reality TV and constantly being compared to her two older sisters, definitely affected her outlook on life and health.
"It definitely affected me and instead of trying to really get out of that, I just kind of owned it. I probably would like eat my feelings more," she recalled.
Kardashian's own struggle with weight and being the heavier sister growing up made her want to help others once she was happy with her body image.
"It really gave me the idea, 'God, if I could just help one or two people.' I feel like that's why I'm given this platform," she said.
Revenge Body airs Thursdays on E! starting January 12th.