Khloé Kardashian revealed what she orders at fast food chains when she wants to be as healthy as possible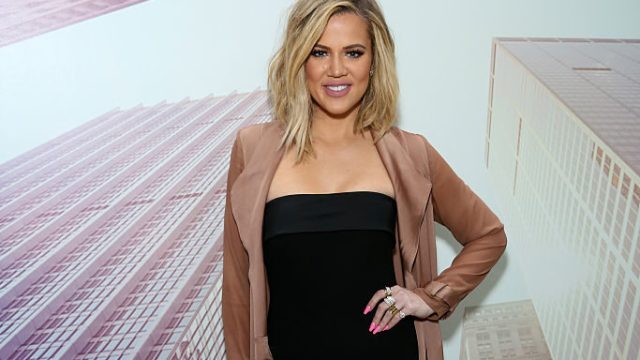 Let's face it, it's not always easy to eat super nutritious foods — even when we want to. Realistically, you're going to find yourself in a fast food restaurant at least once in a while, and unless you plan to skip a meal (never a good idea!) you're gonna have to choose something. Luckily, Khloé Kardashian has shared her fast food picks for when you're trying to eat healthy and options are limited. And it's actually majorly helpful.
In a new post to her app, Khloé shared her fast food choices and gave us some good tips for trying to keep things nutritious.
She wrote, "Even though clean eating is my M.O., sometimes I find myself in situations where there just isn't an avocado smoothie or quinoa salad on the menu.When your only options are the Golden Arches or Colonel Sanders, you don't have to throw your whole diet out the window!"
While it may be hard to believe, it seems even celebs find themselves without a super-healthy option. Luckily Khloé is able to guide us through her fast food go-tos.
At McDonald's, the Revenge Body host finds herself drawn to the Artisan Grilled Chicken Sandwich. While admittedly it's *not* a Big Mac, it's a delicious protein-filled sandwich that won't make you feel gross later. Khloe also noted that she skips the fries and soda and doesn't supersize the meal. Duly noted, Klo!
While it may seem impossible for anyone to set foot inside Taco Bell without getting something littered in Doritos, Khloé keeps things simple, ordering two soft shell tacos, with shredded chicken, lettuce, a *bit* of cheese, and pico de gallo.
At everyone's favorite burrito joint, Chipotle, Khloé opts for the salad bowl — but skips the cheese and sour cream. That leaves romaine lettuce, black beans, fajita vegetables, fresh tomato salsa, and guacamole. Luckily, what she misses out in cheese and sour cream, she makes up in *extra* guac.
https://www.instagram.com/p/73VhYOux6a
While skipping out on the fries and soda for a heathy serving of veggies and protein, Khloé is proving that fast food doesn't have to ruin a healthy eating streak. Her full guide, featuring even more fast food joints, can be found on her app!