All the times Khloé Kardashian dished about pregnancy and what kind of mom she wants to be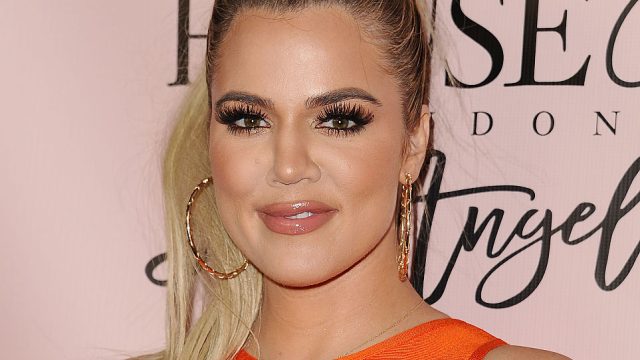 If you haven't heard by now, our favorite Kardashian, Khloé, is reportedly pregnant. Although the timing of the announcement coincided with Kylie Jenner's pregnancy news, the 33-year-old has been talking about starting a family for a while now. And while we're very happy for her, we're also not surprised! Clearly this has been on the horizon for her.
It seems as if the reality star has finally arrived at the place in her life where she's ready to take on diaper changes and bottle feedings. Here are Khloé Kardashian's best quotes about pregnancy, motherhood, and what kind of mom she wants to be.
On her fertility issues:
"I was 26 when that started, and I admit, I didn't know a lot about my body," Khloé said in a 2013 interview with Redbook. "It was hard for me to understand what was happening because my mom had six kids and Kourtney got pregnant quickly. People assume I'm desperate for a baby. And yes, I would love to have a baby. But I'm 28, and I've been married three and a half years. I love my life, but it doesn't feel incomplete right now."
On not getting pregnant during her first marriage to Lamar Odom:
"At the time, I was like, 'Oh, I have to have a baby!'" she confessed on her talk show, Kocktails with Khloé. "That's all I wanted at the time, and I thought it would maybe fix the situation [with ex-husband Lamar Odom], so I'm also happy it didn't happen because I was young. I was 27, and I thought, 'A baby will fix this,' and it's not going to fix that."
On moving on from Lamar and her hopes for the future:
On a 2016 episode of Keeping Up With the Kardashians," Khloé revealed: "I love Lamar with all of my heart and I want the best for him…but now I feel I'm back to it being the hardest thing to do…I want to have kids and maybe to be remarried one day. I need to move on, and I will be filling for divorce very soon."
On wanting to be like her mom:
"My greatest wish is to grow up and be as fantastic as a mother as you have been to us!" she wrote on Facebook in a birthday post to her mom.
On how great her relationship is with Tristan Thompson:
On the Keeping Up With the Kardashians season finale in June 2017, Khloé spoke sweetly about Tristan to her sister Kim: "He's like, 'I wanna have kids with you, and then if you get pregnant, you could make maternity jeans for Good American.' He's so fucking cute and supportive and sweet…I've just never had…He's just such a nice, nice person."
On having kids with Tristan:
"I would love to have a family. We've talked about it. He [already] is a father and I know for a fact that he would be an impeccable father…I definitely want to be a mom, but I don't put the pressure on it. It's not like, 'The clock is ticking.' I feel in my soul it will happen," she gushed in an interview with ES magazine in April 2017.
On having a big family:
"He wants to have like, five or six kids with me, and that's lovely…We could start at one and then grow from there. But now, knowing I'm not on birth control, it's really scary. It's like a really big step," she said in August 2017 to YOU magazine.