Khloé revealed the real reason she kept her pregnancy secret for so long, and it will break your heart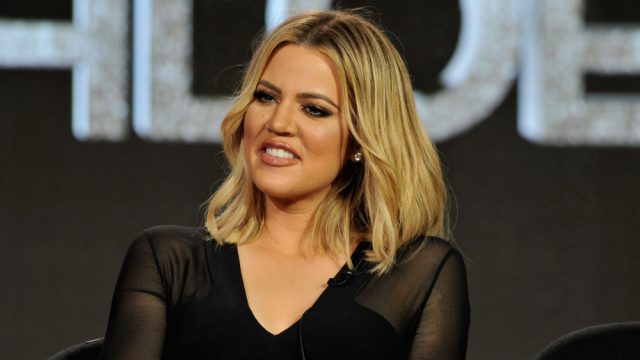 Ever since Khloé Kardashian announced she was expecting her first child with boyfriend Tristan Thompson last December, she has been pretty candid with fans about her journey to motherhood, and it's clear that she's so excited to become a mom. But Khloé just revealed why she kept her pregnancy secret for so long, and it's genuinely breaking our hearts.
News of Khloé's first pregnancy broke back in September, but the reality star didn't confirm the reports until her adorable Instagram pregnancy announcement nearly two months later. She initially said it was because she wanted to keep some special moments to herself and her family, but it seems like there was actually way more to the story.
On this week's Keeping Up with the Kardashians, viewers saw the moment when Khloé learned that TMZ was planning to release a story announcing her pregnancy, two weeks before her second trimester. For those who don't know, doctors generally advise pregnant women to wait until after the first trimester to announce because of the high risk of complications during these early months. And it turns out Khloé's pregnancy was already considered high-risk because she wasn't producing enough progesterone, a hormone necessary during pregnancy to help stabilize the uterine lining.
Khloé discussed the painful (and exhausting) progesterone supplements she was receiving twice a day in order to carry out a healthy pregnancy, which took a toll on her emotionally and physically.
https://www.youtube.com/watch?v=7mlVEKBrpKA?feature=oembed
On the show, Khloé told her sister Kourtney she had to endure the progesterone treatments, "otherwise the baby is not going to be here." She added, "The body naturally produces progesterone. My body doesn't. The progesterone keeps the sac in place and if not, that's how you miscarry. And she [Khloé's doctor] said, 'For sure you would have miscarried [without the injections.]'"
Viewers also saw Khloé at her doctor's office, where her doctor confirmed that her progesterone levels were now normal and that the treatments "saved" her pregnancy.
Still, Khloé understandably wanted to wait until her second trimester before announcing her pregnancy to the world, adding, "This is why you don't announce early. There's a lot of complications, a lot of things could happen, and I could have had the potential to miscarry. As soon as I get to my second trimester I will have such relief, and that's all I'm waiting for."
And with news outlets threatening to announce the pregnancy before she was ready, both Khloé and her sister Kim were worried about protecting her privacy at such an important moment in her life.
Kim said, "I think it's just really unfortunate for Khloé because she's not past her first trimester. And she just isn't ready to talk about it yet, but at this point there's nothing we can do – it's going to get published. It's just really unfortunate that people are so nosy...It's such a tricky thing because people expect us to share every last detail of our lives. It's almost like we're not entitled to privacy."
Khloé echoed her statements, saying, "I hate that everyone is prying and so nosy. It's super frustrating…Tristan only told a very limited amount of people. You don't want everyone to find out via the internet, but that's taken away from you."
Ultimately, the reports ended up surfacing anyway, but Khloé still waited until she was ready to make her official announcement. She said, "I've tried really hard to keep my pregnancy safe, and a secret. And somehow, some way, TMZ published the article. There's nothing I can do about the article – it's out. But I'm not going to confirm it yet, because I'm waiting to be in a safe spot and that's my choice to do that. It's my decision. At least, I would think it would be."
We're so glad to hear that Khloé is doing okay now, and we're so sorry to hear she didn't get the privacy she deserved. Everyone is entitled to privacy — especially moms-to-be.