Khloé Kardashian got real about mommy-shamers who criticize her time away from True: "Do you think I'm leaving my child alone?"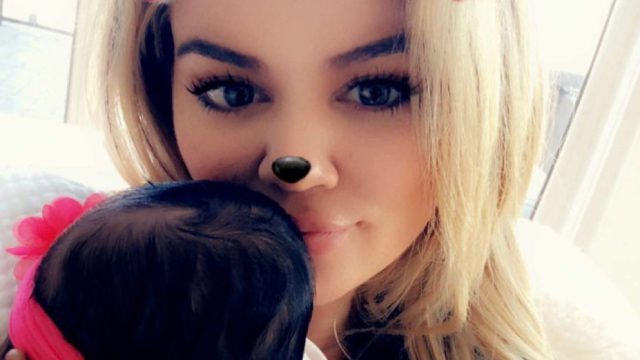 Khloé Kardashian has been dealing with mommy-shamers since before she gave birth. When she was pregnant with True she was criticized for flying to Japan because apparently all Instagram commenters are doctors and decided that she shouldn't fly while pregnant. Mommy-shamers are a wild bunch, and as Chrissy Teigen expertly pointed out—often very sexist—but Khloé is over the judgment and vitriol she gets on a daily basis on social media.
"Even working out, like my baby's asleep, I'm working out, the monitor's with me…but even if it's not, do you think I'm leaving my child alone?" Khloé told E! News at a Good American event in New York.
"It just drives me crazy that people are...I don't know why they're passing judgment."
Khloé basically said that anytime she's not with her daughter, she's attacked.
"I was at a charity event last weekend and I'm literally trying to raise money for cancer research and I'm getting annihilated for being somewhere on a Sunday," Khloé added. "I'm like, 'She's with her dad, you asshole. Like, what do you want me to do?'"
When Khloé announced she was finally going back to work, people still tweeted "Where's True?" at her as if Khloé wasn't aware of her child's whereabouts.
"I get crazy with that," Khloé said. "Because we also have to work to support our families and the lifestyles that we have and I don't know what people want us to do now that we have kids, just stay at home?"
Khloé, we feel you. Keep on doing you and tune out the noise.