Khloe Kardashian bares all about her divorce in the newest Lenny Letter
Lena Dunham and Jenni Konner, the brains behind our favorite Lenny Letter, have been pretty vocal about their love for the Kardashians, especially Khloe Kardashian. So we weren't surprised when we saw Khloe's name on this morning's issue of the newsletter. We were surprised, however, about the subject of her essay: religion.
"When you think Kardashian, devout probably isn't the first thing that crosses your mind," Khloe admitted in the first line of the piece. "Believe it or not, I come from a very religious family."
The 31-year-old Keeping Up With The Kardashians star wrote about her childhood, and how those events shaped her view of religion today:
Now, she sees the beauty in all religions. "I've read about Buddhism and the Quran," she explains. "And I've gone to Seder dinners with Jewish friends.One of my exes was Muslim and observed Ramadan, which is a month of fasting."
Because of this, Khloe Kardashian doesn't understand "how others can sit around casting judgments" on those who don't share the exact same beliefs. That doesn't mean religion has always been entirely clean and simple to her, however. She's faced obstacles when it comes to her faith, like when her father passed away when she was 19 or when she decided to divorce Lamar Odom back in 2013.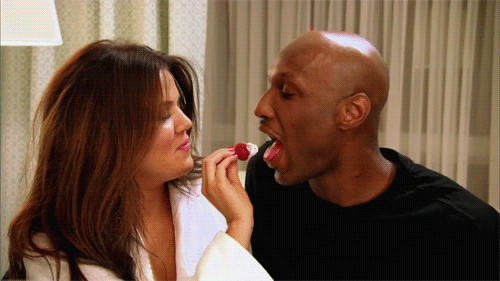 "At my core, I don't believe in divorce, but I came to a point in my marriage where I had to make the choice to take care of my own mental and emotional well-being in order to protect myself and my happiness," she wrote, continuing, "I feel that I kept the serious vows I made in front of God with every inch of my heart, which is why I am still honoring them today even though my relationship with my ex-husband is in a different place."
This comments are really touching and shed further light on how Khloe has managed a difficult relationship with her ex. We hope this isn't the last time we'll get to read some of Khloe's work — maybe one day she'll have a newsletter of her own!