Khloé Kardashian is kicking off the leopard print pajama trend, and we want in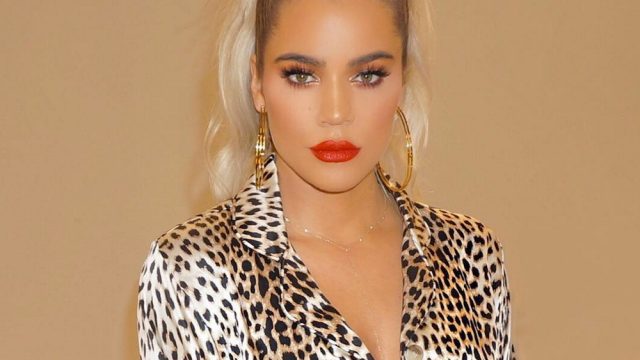 From the bed to the streets, Khloé Kardashian's leopard print pajamas are giving us a serious case of the meows!
The diva is a big fan of the glam-leisure look. When she's not strutting in her Good American denim collection, the reality star has been known to vamp up her style with sequined track suits and hoop earrings. Speaking of hoops, she's rocking another gold pair with her queen of the jungle two piece.
Khloé's looking like the fourth member of TLC in the "Creep" video in her silky pjs. Sleepwear to streetwear, we think this trend will take off like your bra at the end of a long day.
The styling of this cozy-sexy-cool look was handled by celeb stylist Monica Rose. Monica's magic touch and discerning eye have styled the Kardashian and Jenner women to perfection, and she's not quitting anytime soon!
Khloé's serving Hugh Hefner meets Bettie Page vibes.
The top of the ensemble is a deep v crop that fastens with a single button. The bottoms are drawstring for maximum chill-ability.
Her glam squad came through flawlessly, of course. Celebrity makeup artist Hrush Achemyan beat "life size doll" Khloé's face using kohgendo Aqua foundation in shade "143."
Khloé's high pony was perfectly smoothed and fluffed by hair guru Andrew Fitzsimons who called the star a "glamazon" in the caption of his Instagram post.
MUA Hrush Achemyan can highlight a nose bridge like no other. Dang!
We're seriously coveting this leisurely look. Catch us at the next slumber party looking like a luscious leopard!