Khloé Kardashian gave birth to her baby girl, and Twitter's reactions sum up all the love we're feeling right now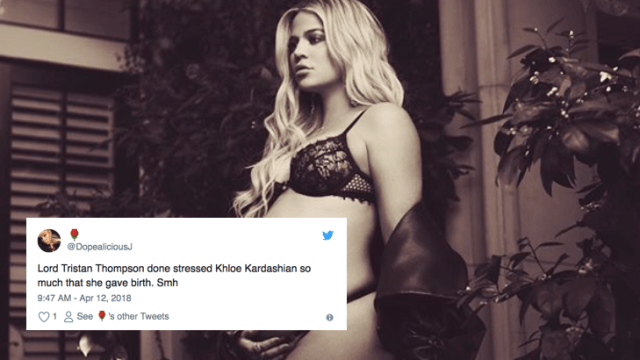 Khloé Kardashian has given birth to a baby girl! TMZ was the first to report that her daughter was born early Thursday morning, April 12th, 2018. While we're sure it was a momentous occasion for the first-time mom, we can't ignore the somewhat unfortunate circumstances that her child was born under (not in terms of Khloé's ability to provide, but in terms of her parenting with a loving, faithful partner). Khloé's boyfriend Tristan Thompson has been involved in an alleged cheating scandal that has left Khloé "shattered." Despite all this, Tristan was reportedly in the delivery room when Khloé gave birth, so the whole thing is joyous and complicated, to say the least.
Naturally, Twitter has its opinions.
There was a lot of "Do you kween! Forget him! Congrats!"-type messages.
"Congratulations Khloe! Stay strong Spiritually. Something no money or man could ever do for you…..!" wrote one sweet fan.
"CONGRATULATIONS @khloekardashian WE LOVE YOU AND ARE SO HAPPY FOR YOU!! You deserve this miracle now GTFO of Cleveland!!!!" tweeted another.
This tweet perfectly summed up what we all figured would happen:
"Lord Tristan Thompson done stressed Khloe Kardashian so much that she gave birth. Smh," someone tweeted.
The internet seems to be defiantly pro-Khloé…
…though there were some, erm, conspiracy theorists in the bunch.
https://twitter.com/udfredirect/status/984473121599127554
At the end of the day, whether Tristan cheated or not, a woman gave birth to her first child and that is lovely.
false
Congratulations, Khloé. Anyone who has followed her journey knows that this birth announcement has been a long road coming and we send nothing but love her way.