Khloé Kardashian has officially given birth!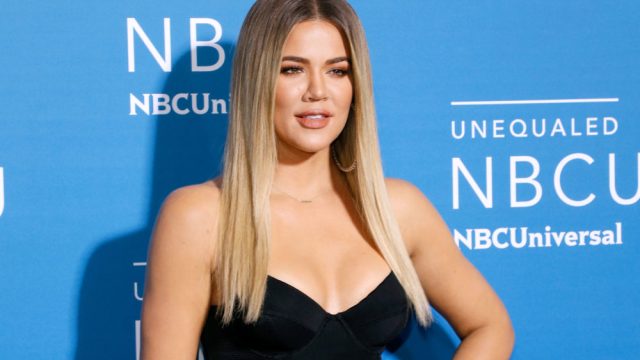 Massive congratulations are in order for the Kardashian-Jenner family, because Khloé Kardashian has welcomed her first child, a daughter, with boyfriend Tristan Thompson.
While we don't yet have official confirmation from the family, TMZ reported that Khloé gave birth in a Cleveland-area hospital around 4 a.m. on Thursday, April, 12th, stating that, "Kourtney, Kim, Kris and Khloe's BFF Malika were by her side during the birth. Tristan Thompson was also there."
Though she largely kept her journey to motherhood private, rumors started to swirl that Khloé was pregnant last September — but no members of the über-famous family would confirm or deny. Fans feverishly speculated about when she'd announce her pregnancy, searching for clues on her social media accounts and analyzing photos to see if/when she'd debut a baby bump.
But Khloé has always done things her way, and she confirmed she was pregnant in late December when she was ready (in the cutest Instagram post of all time, btw). She revealed that she kept her pregnancy a secret for so long because she wanted to share special moments privately with her family and friends for as long as she could.
For those who don't know, Khloé and Tristan started dating in the summer of 2016, and Khloé revealed on Keeping Up with the Kardashians that Tristan wants "five or six kids" with her.
Unfortunately, the last few days have seen the couple engulfed in rumors and speculation after video surfaced of what looked like Tristan cheating on Khloé — though neither party has commented on the situation. We're 100% respecting their right to privacy at this time.
For now, we're sending SO MUCH LOVE to Khloé. Congratulations, girl, and we can't wait to meet the new addition to the krew whenever you're ready.