Khloé Kardashian has allegedly forgiven Tristan for cheating on her, and hang on, not so fast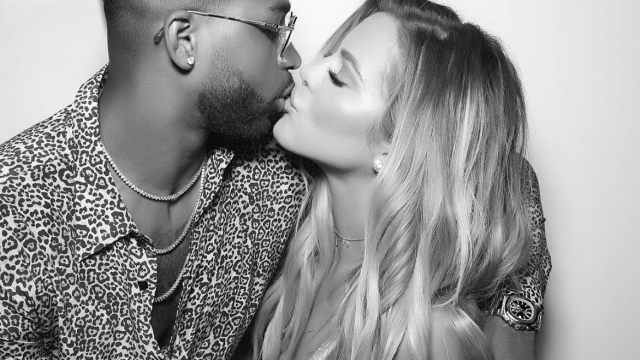 Happy Thursday Khloé Kardashian Day! Congrats to the reality TV star, who gave birth to a beautiful baby girl today. While the Kardashian family has so much to celebrate right now, they're also dealing with a lot of drama. Tristan Thompson, the father of Khloé's daughter, was caught cheating on multiple occasions. And according to "sources" (Kris, I see you), Khloé has already forgiven him.
The Kardashian family source told PEOPLE, "Khloé is feeling nothing but happiness right now. She is head over heels in love with her little girl — she is just consumed with love. Absolutely nothing else matters."
As much as we want to shake our fists at Tristan and pull a Charlotte at Carrie's wedding in the first Sex and the City movie, we have to remember that this isn't our business. At the end of the day, this is a family matter between two people: Khloé and Tristan. It's their relationships, and relationships are rarely perfect. Are we still interested in what's unraveling in House Kardashian? Duh, otherwise we wouldn't be writing this. Will we stay judgment-free and let this woman decide how she wants to live her life? Hell yeah.
The source added, "She's so incredibly happy that her baby is here, that she is big and strong and healthy and beautiful, and so right now Khloé truly has no other cares in the world. She isn't even mad at Tristan right now. She's basically already forgiven him. She is in a bubble of love and peace and happiness right now, and everything that happened with Tristan is less about 'cheating' and more, like, it was just a random drunken hookup that meant nothing and was kissing at most and didn't lead to anything else and was the fault of stupid groupies trying to trap him, and everybody just needs to move on."
Obvs we don't *love* that the source blamed "stupid groupies trying to trap [Tristan]" because it's not cool to put all the blame on the woman/women involved in the alleged affair, but again, it's none of our business.
We just hope Khloé is happy and at peace and spending time with her little one.