Khloé Kardashian admits she's "nervous" about breastfeeding, and there's no shame in that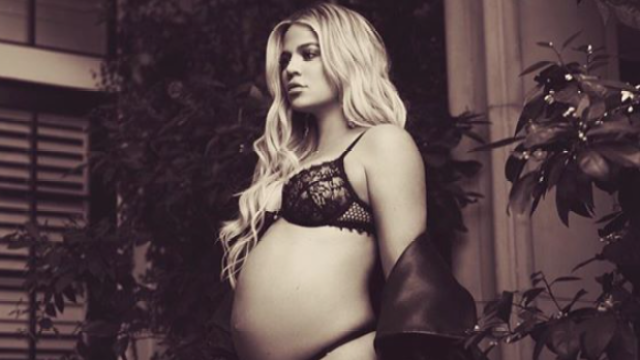 If you've been keeping up with the Kardashian pregnancies, you know that Khloé Kardashian is due any minute now. To commemorate these very short nine months, Khloé and her boyfriend Tristan Thompson posed for a series of stripped down photos that proudly showcase Khloé's bare baby bump in all its life-giving glory. However, buried deep in the comments for the photo, Khloé revealed to a fan that she's especially nervous about breastfeeding.
People.com noticed that a fan commented on Khloé's "pregnancy breasts" (hmm okay?) and warned her that "breastfeeding is no joke," to which Khloé responded: "Oh my gosh lol I'm nervous about breastfeeding. I hear crazy things but I'll fight through it and love it."
We see so many glorious and beautiful photos of mothers breastfeeding on social media, but many women do struggle with it, and it's heartening to hear all sides of the breastfeeding experience. Adele once admitted during a concert that she struggled with breastfeeding, and only "managed about nine weeks with my boobs."
There's zero shame here and we love Khloé's attitude. While that commenter zoomed in on one aspect of Khloé's postpartum body, Khloé says she did the lingerie maternity shoot to honor her bump and this time in her life.
"I know I'm going to miss my belly so much once she's here, I had to capture the beautiful process that is pregnancy so I can always look back at this time, Khloé shared on her website. "Being pregnant has always been a dream of mine. Even though nine months feels like a lifetime while I'm awaiting the arrival of my baby girl, it's really a blink in the grand scheme of life.
Khloé's journey to motherhood has, as she puts it, "always been a dream," and Khloé fans know how badly she's wanted to be a mom for so long. Breastfeeding might be a struggle, but we're sure Khloé will accept it with open arms.