Keeping Up with the Kardashians filmed Khloé Kardashian giving birth AND the whole Tristan drama — but is that fair to Khloé?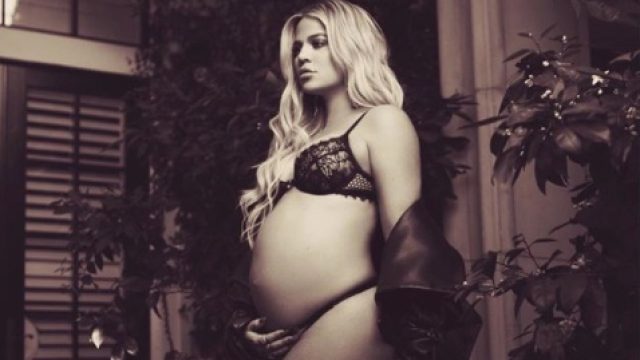 We're so excited to report that Khloé Kardashian gave birth to her baby girl on Thursday, April 12th. Momager Kris Jenner confirmed the birth news in a wink-y tweet that conveyed her excitement about welcoming the family's third girl in four months.
TMZ reported that Khloé gave birth in a Cleveland-area hospital around 4 a.m. local time surrounded by her loved ones. "Kourtney, Kim, Kris and Khloe's BFF Malika were by her side during the birth. Tristan Thompson was also there," TMZ said. But the birthing guest list didn't stop there. There were other people present in the delivery room too —  the Keeping Up with the Kardashians film crew. Sources told PEOPLE that E! was filming at the hospital.
Yep, it sounds like viewers will get the chance to witness the birth of baby girl Thompson on TV, likely during the upcoming season of KUWTK. With cameras rolling, they also inevitably captured footage of Khloé dealing with the rumors that Thompson is cheating on her. Khloé has always been an open book, agreeing to share her life and struggles with her fans on TV and on social media. But at what point does this go from giving us a glimpse into her life to exploiting her pain?
All of the Kardashian-Jenner family members have been filmed going through trying times.
Kim Kardashian went through a very public breakup and divorce from Kris Humphries. Kourtney Kardashian tried to help Scott Disick get sober a number of times. Kendall Jenner sought treatment for her anxiety. Kris Jenner was blindsided by Caitlyn Jenner's accusatory comments after her transition. Rob Kardashian struggled with his weight. And Khloé continues to face personal struggles. Her ups and downs with her ex-husband Lamar Odom were painful to watch through the years. And now, she's likely been filmed reacting to and dealing with the news that Tristan may have cheated on her.
Honestly, we don't know if we want to watch Khloé react to rumors that Tristan cheated on her.
We get it: This is what she signed up for. But is it? Khloé is still a human being. This is a private relationship matter and we shouldn't be privy to these conversations that are being filmed.
The Kardashian-Jenners helped define what "being famous for no reason" means. Maybe they can help us define where the line is and when things go too far. We love you, Khloé, and we wish you and your baby girl nothing but the best.