Khloé Kardashian's biggest fear about being a mom is so relatable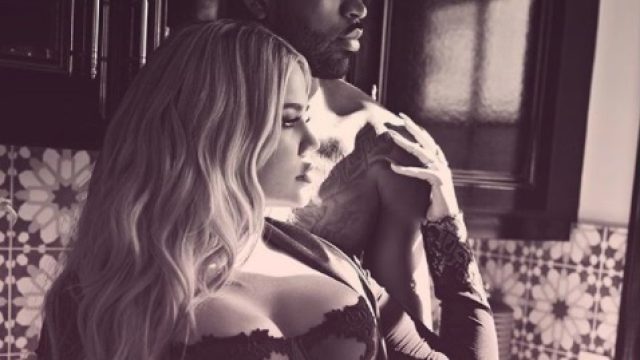 After both Kim Kardashian and Kylie Jenner's private pregnancies — Kim's due to protecting the identity of her surrogate — Khloé Kardashian had a pretty public pregnancy. From posting sexy pictures highlighting her baby bump on Instagram to sharing her nerves about breastfeeding, Khloé has been a pretty open book.
Now, with only days to spare before her baby girl arrives, she's sharing her biggest fear about becoming a mother. But she's not scared that she won't be a "good enough" mother, probably because the reality star has had plenty of experience babysitting her nieces and nephews.
Instead, Khloé fears that she "won't have time to do it all," E! News reports. Every expecting mother can probably relate to that fear, especially when they have a thriving career like Khloé's. The youngest Kardashian sister — not counting the Jenners — launched her denim brand Good American in 2016. Since then, the company has launched a ton of exciting lines, including a maternity line called Good Mama. It makes sense the Khloé's afraid that with her baby girl she might not be able to balance her work with motherhood — never mind a social life — but she will probably only gain more inspiration from her new role as a mother.
Maybe Khloé will even take a page out of Kim's book and create a clothing line for kids like Kim and Kanye West's The Kid's Supply. Even though it's totally normal to worry about juggling motherhood along with everything else, something tells us she will be able to handle it.
Khloé is used to having her hands full!
And don't forget that Kris Jenner is always there for backup when needed.
An insider told E! News that Jenner is "helping [Khloé] figure it all out."
Despite worrying that she won't have time to "do it all," Khloé shared that her nerves are mixed with elation.
The baby's due any day now, and it's safe to assume that Khloé isn't the only one who's excited.
She'll have quite the welcoming crew in Cleveland.
We can't wait to meet the baby girl!
To all the expecting mothers out there, just follow in Khloé's lead and grab motherhood by the maternity pants' waistband. You got this!