Khloé Kardashian shared her bare baby bump in an intimate lingerie maternity shoot, and dayum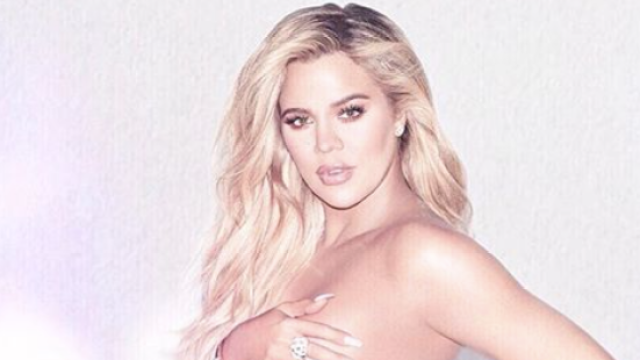 Khloé Kardashian has been unveiling bump photos throughout her pregnancy, but none quite like this one. Kardashian stripped down to the prettiest lingerie for an elegant (but still very fierce) maternity photo shoot. Sasha Samsonova photographed the intimate moment and we're sure there are plenty more photos from this set that Khloé hasn't revealed to us yet. Samsonova is a constant Kardashian-Jenner collaborator and known for shooting subjects in the nude or lingerie. ICYMI: she photographed that bump buddies pic of Kylie and Khloé when they were both secretly pregnant.
Khloé is nearing the end of her pregnancy and a source tells People that she's nesting in Cleveland, Ohio where she has a second home with boyfriend Tristan Thompson. Her entire family will reportedly fly out to Ohio when it's time for Khloé to give birth. She told Jimmy Kimmel in January 2018 that she hopes her due date coincides with Thompson's NBA travel schedule, and joked, "I don't know when I'm having the baby yet, it just happens so I hear."
As for the below photo, it's lovely that Khloé is commemorating her first pregnancy in a way that is true to herself because a Kardashian pregnancy is a glam pregnancy. This might not be how all new mothers choose to document their bare belly, but this gorgeous photo is very Khloé.
This is probably the most belly we've seen from Khloé, aside from posing in her Good American maternity stretch jeans.
Here's the time Samsonova captured Khloé and Kylie with their matching bumps.
Khloé is going to be a new mom any day now. Congratulations Khlo-moneymommy.