These are the traits Khloé Kardashian hopes her baby will inherit from Mom and Dad, and we're kind of surprised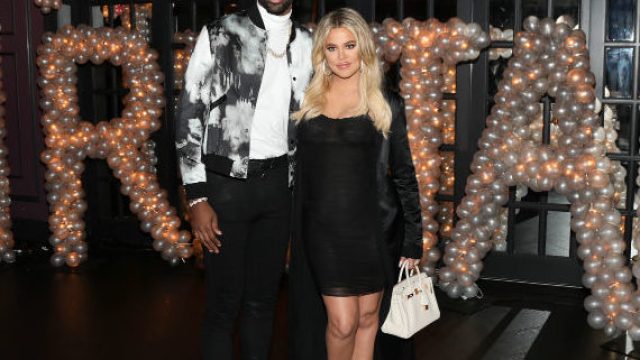 Since officially announcing her pregnancy, Khloé Kardashian has not been shy when it comes to revealing anything about her future baby girl. She has opened about working out while pregnant, how she feels throughout the day with a baby in her body, and her nervousness about breastfeeding. And now she's letting fans in on another detail: Kardashian has revealed which traits she hopes her baby will inherit from mom and dad one day, and her list is really adorable… and a little surprising.
On her app, Khloé With A K, Kardashian went into detail about her hopes for her future baby girl, revealing which qualities she hopes the baby picks up from her and from dad Tristan Thompson. She wrote, "I can't wait to meet my baby girl! I often think about what she'll look like and what her little personality will be like. She'll be the perfect mix of me and Tristan — which is such a crazy thought, LOL."
So what traits is Khloé Kardashian hoping her daughter will inherit?
Well, first of all, she wants the baby to share her sense of style, which we can't say we're surprised about — and we have no doubt she will. How could she not?! As for dance moves, however, she wants the baby to learn from Thompson. Who knew he was a good dancer?
When it comes to IQ, Kardashian wants the baby to inherit a mix: her street smarts and Thompson's general IQ. Interesting! For athleticism, she wants her daughter to be like Thompson, although she notes that they're "both beasts." Makes sense, since Thompson is a professional basketball player.
For charm and good looks, Kardashian is hoping the baby will inherit both from Thompson. But when it comes to patience and a strong work ethic, she wants the baby to inherit her own qualities. So now we know what Kardashian thinks about herself and her bae!
Honestly, in our opinion, the baby will be totally fine either way. Kardashian and Thompson seem like the cutest, most dedicated parents, and we know they're going to be rockstars at raising their daughter. Now we just need to know the name…