Pregnant Khloé Kardashian posed in the kitchen in nothing but her underwear, and it's a legit work of art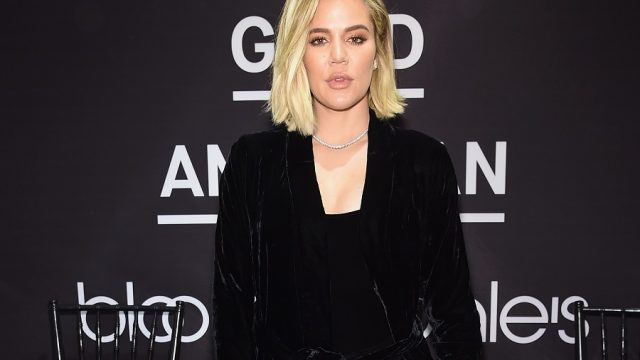 Baby bumps are a beautiful thing. Case in point: Khloé Kardashian's latest Insta pic. She posed in her underwear with partner Tristan Thompson, and it was seriously a work of art, guys.
Last week, Khloé announced that her due date was fast approaching, telling a fan on Twitter, "Only a few weeks left where I have the excuse to eat like this." She's also the latest in her family to welcome a new baby (for now). Sister Kim had her third child via surrogate this year, and Kylie Jenner gave birth in February after fans speculated she was pregnant for months.
The baby will be Khloé's first, and her boyfriend's second (Thompson has a son named Prince whom he shares with an ex-girlfriend). The loving couple was first spotted in public together back in September 2016.
And the gorgeous photo helps document an unforgettable time for the couple, i.e., the days before the new baby arrives and their lives are changed forever.
We can't lie, we never knew that wearing undies in the kitchen could look so artistic. And fans were nothing but complimentary of the gorgeous photo, sending well wishes to the mother-to-be.
Not only are these pregnancy pics utterly stunning, but they're a reminder that Khloé — aka one of our favorite humans — is due any day now. She's been super vocal about her desire to have children for several years, so needless to say, we're stoked for Khloé right now, and we can't wait to welcome the newest member of the Kardashian-Jenner clan into the world soon.