Is Khloé Kardashian showing off her baby bump in this Good American pic?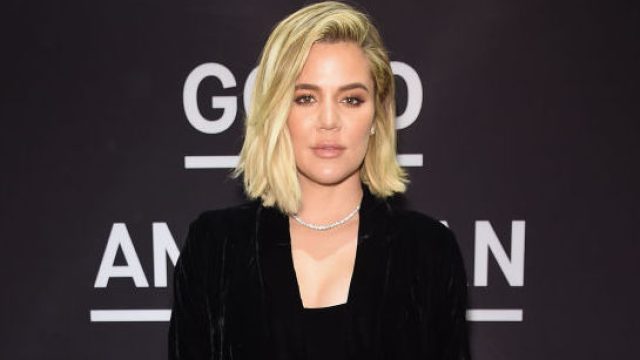 Sisters Kylie Jenner and Khloé Kardashian are *killing* us with these pregnancy rumors. Are they expecting, or aren't they? While we have yet to confirm if there's truth to the rumors, the reality TV stars continue to have us impatiently waiting for more information. Recently, Kardashian shared a Good American promo pic on Instagram that has fans convinced she's showing a hint of a baby bump.
Prior to this particular 'Gram, Kardashian fueled pregnancy rumors on Snapchat on Halloween when she called her boyfriend, Tristan Thompson, daddy. She had fans questioning whether she was using the term literally, like daddy-to-be, or just playfully. The pair dressed up as Daenerys Targaryen and Khal Drago from HBO's Game of Thrones and Kardashian had us all confused. Could the title Mother of Dragons just be a coincidence? So. Many. Questions.
However, the Halloween speculation wasn't the first time that fans have made such assumptions. Back in October, a different Good American promo pic left fans wondering as well. But Khlo, AKA the queen of clap backs, responded by giving everyone the fashion 411. It was a peplum shirt, guys.
Kylie and Khloé have notably called their lip kit collab their "baby" as well. They have to be TROLLING everyone at this point.
In the newest Instagram post in question, Kardashian is wearing a burgundy velvet sweatsuit.
It could be the angle, but the internet thinks that Khloé is starting to show.
Instagram users are adding their own input in the comments. Best of all? People are being so positive and supportive!
User brittany.mer says,"I see a little bump. @khloekardashian you're going to be an amazing momma. I'm excited to see what the future holds for you and Tristan."
Other comments look just like bunnyandfrank's simple but to the point "BABY BUMP."
Fans like princessdeyjahrosemarie find the possibility of a pregnancy! Very! Exciting! "That baby bump!!! Is EVERYTHING!!!"
With fans backing her and mother Kris Jenner telling Entertainment Tonight, "she's really equipped to handle whatever comes her way," we really want this to be true. Looks like we might have to wait until 2018 to find out, though!