Khloé Kardashian is apparently going to announce her rumored pregnancy soon, finally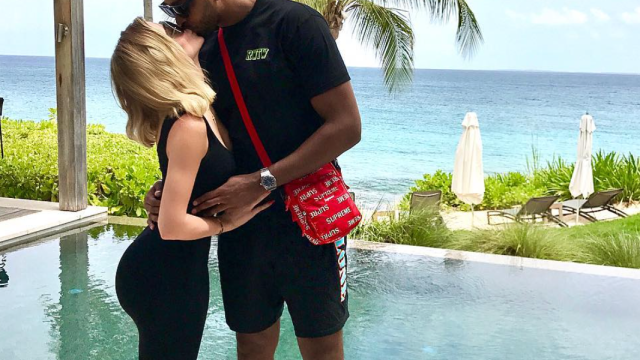 Oh baby! After months of waiting for the official announcement that Khloé Kardashian is pregnant, a source has revealed to US Magazine that it is on its way. Both the announcement, and the baby, that is. Rumors that the third Kardashian sister and her beau, Tristan Thompson, were expecting started circulating in September, but the famous couple has surprisingly kept mum about whether or not Khloé isgoing to be a mum. Now that sources have confirmed to US that the announcement will happen this holiday weekend, that could all change.
Let's face it, an official Khloé Kardashian pregnancy announcement would put the "giving" in Thanksgiving.
Thompson and Kardashian have dropped many a clue about their future co-parenting, though. Last Halloween, they dressed up as Khal Drogo and Daenerys Targaryen together, which ended up possibly revealing more than the fact that they're as good-looking together as the actual Game of Thrones couple was. In a Snapchat that Khloé posted, she captioned a photo of Thompson with "That's daddy." That caption sent Kardashian's fans into a frenzy, of course. Kardashian's social media has hinted at her pregnancy at other times, too.
After the September pregnancy rumors broke, Khloé's fans channeled Kim's investigative skills. They discovered that Khloe may have hinted at the secret back in June. In an Instagram that Khloe posted after her surprise birthday celebration, she labeled a photo of herself and Thompson with "Dad + Mom." The photo has since been deleted, but anyone who keeps up with the Kardashians knows how major it was.
The announcement would confirm everyone's guess that the Kardashians will reveal all during the holidays
Some have speculated that the official announcements that Khloé and Kylie are expecting might happen with the family's infamous Christmas card. With US's recent report that this weekend could hold a pregnancy announcement from Khloé, though, it seems like we might not have to wait until December.
How exciting would that be?
We can't wait.
Considering that people noticed a few extra pairs of pajamas in a recent Instagram posted by Kris Jenner, it seems like everyone's suspicions that the holidays will be filled with Kardashian pregnancy announcements may very well come true.
Of course, Khloé's baby wouldn't be the only upcoming addition to the Kardashian family. Kim has already confirmed that her baby — who will be born via surrogate — is due this winter. The chances that new cousins born to Khloé and Kylie will quickly join Kim's new baby seem likely. Ugh, it really is a lot to keep up with.
Hopefully this Thanksgiving weekend, we'll be able to say that we're officially thankful for Khloé's pregnancy announcement. What could be better than that?